I know this interview is going to be special – the winemaker is quoting Leo Tolstoy to me... in Tolstoy's native Russian.
"Все счастливые семьи похожи друг на друга, каждая несчастливая семья несчастлива по-своему."
It's the opening line of the classic novel
Anna Karenina
and translates as:
"All happy families are alike; each unhappy family is unhappy in its own way."
Doctor Eko Glonti, one of Georgia's most revered winemakers, says it's the same for soil: "Every unhappy soil has its own story."
Eko, a former anaesthetist in cardiothoracic surgery, is now obsessed with the health of soil. In fact, he treats it like a patient, sees soil samples as the equivalent of taking blood to help diagnose a problem, and consults medical books for ideas on improving the soils in his vineyards and those of his grape suppliers.
He even believes the doctor's Hippocratic Oath – "First, do no harm" – applies to viticulture.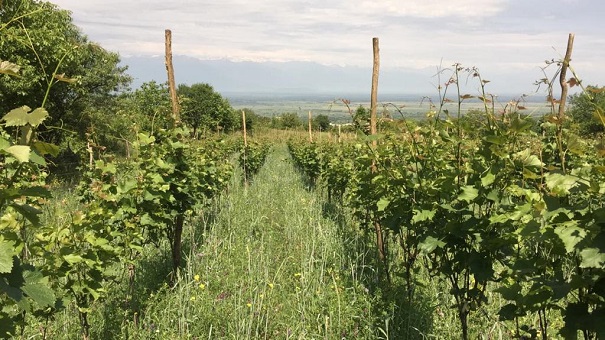 'Don't think that you're a god'
"Observe and be careful," he advises, and make changes slowly. "Don't think that you're a god. Better to be humble."
He continues: "First, you have to understand the soil. Theoretically, you can do everything to rebalance the soil. It's possible; it's really expensive, but it's still possible. But because it's expensive you must do it step by step."
Eko points out the soil "is living in its own way and when you are starting to intervene you should be careful… You should know the impact on your soil takes time and you can't do everything in one go, it's impossible."
Eko, who became fascinated in geology after quitting medical practice, switched to winemaking in 2011. Now his organic wine brand, Lagvinari, is on the wine list of top restaurants in the UK, Norway, Austria, France, USA and Germany.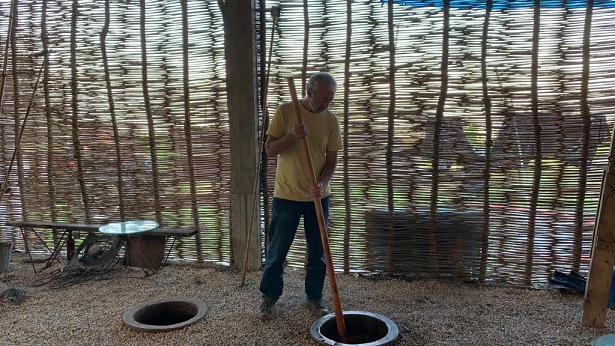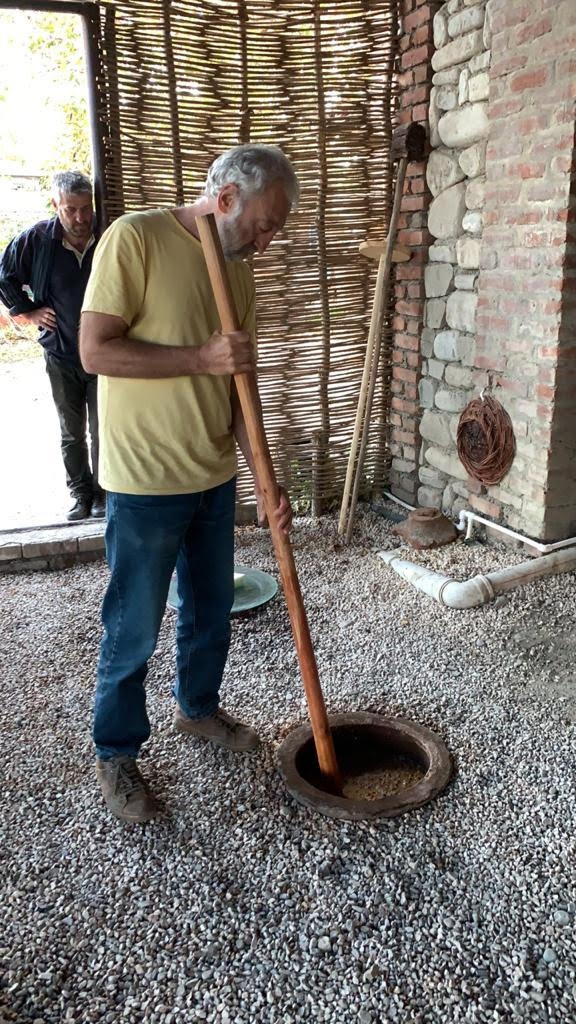 While his vineyard work involves intervening with the soil to get healthy, balanced grapes, there is minimal intervention in his marani:
Spontaneous fermentations in qvevri;
Manual punchdowns (above);
Natural clarification;
The addition of a little SO2 after about a year, when the wine is stable, to avoid "blocking some processes".
Eko doesn't analyse his grapes until they are destemmed and crushed. That's the first time he checks the sugar and acidity levels. In the vineyard, he checks the maturity of the grapes and stems by tasting them.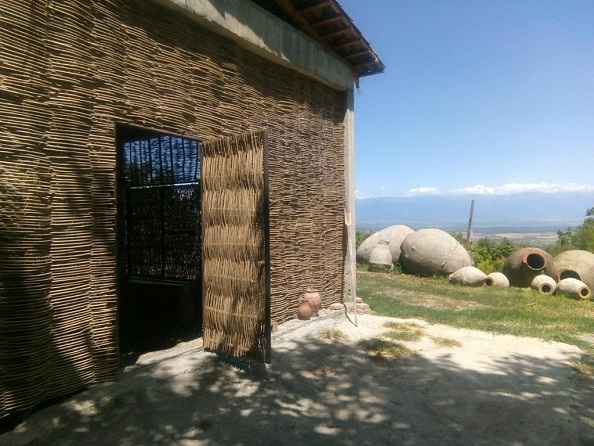 I have four Lagvinari wines from the 2018 vintage in front of me. All are made with indigenous grapes – Chinuri, Rkatsiteli, Tsolikouri, and Saperavi – and I'm itching to taste them, but Eko is more interested in talking about the soil than his wines.
"Soil is not just a mechanical compound of minerals or humus, it's an integral organ," he continues. "So, to make it function, you need everything working together – the air, the water, the minerals, the humus…
"Your soil should be an imprint of the mother rocks… In your glass is the voice of these rocks. You have to hear the stories of the rocks."
'You have to hear the stories of the rocks'
Eko has 5ha of vineyards himself and works with tenants on another 5ha of land in three regions: Kakheti, Kartli and Imereti. At the Lagvinari winery in the Kakheti region, Eko makes wine from indigenous grape varieties such as Krakhuna, Tsolikouri, Tsitska, Goruli Mtsvane, Saperavi, Otskhanuri Sapere, Aladasturi, and Chkhaveri.
He tells me he ventured into wine because he was "disappointed" with what he was tasting – it wasn't as good as the wine he'd enjoyed as a child!
He clarifies: "We are allowed to drink a little bit from childhood, so when we are 16 or 18 we are not going crazy."
But he "remembered the taste" from the time he spent living in the countryside and eventually reasoned this was before the growth of chemical farming and "too much intervention in wines".
Faced with wines that were "not that interesting for me", Eko turned to natural winemaking and the traditional Georgian method of production – in qvevris. "In Georgian, if you say someone is 'making' wine, we understand it as 'falsifying' wine," Eko says. In Georgia, wine is "born", not "made", and the process takes place in womb-like qvevris.
Eko views the whole process as grapes growing, living and dying – with wine as the resurrection.
With medicine and healing in his DNA, he believes in the health benefits of maceration. "The best things you have in a grape are concentrated in the skin," he points out.
After taking up winemaking and initially focusing on vinification, he soon turned his attention to the vineyards and then the soil – the key to beautiful, honest wines.
Eventually I get to taste the wines born in his marani. I know they reflect the terroir, but I can't help thinking they are also a reflection of Eko – complex, charming, profound, with a hint of poetry.
After the tasting, my thoughts turn back to Tolstoy and another line from
Anna Karenina
:
"I envy him for being better than I am. He does not live for himself. His whole life is subordinated to duty. And that is perhaps why he is so calm and contented."