Coravin's founder, Greg Lambrecht, is on a mission "to expand the way wine is enjoyed, served and sold".
But he says he also wants "to make the consumption of wine completely guilt-free – no waste, no hesitation, to never have to be in that situation of asking is that wine ready or is that wine going to pair well with this?"
It's ten years since the inventor revolutionised the way wine is consumed with the launch of his Coravin wine preservation system, which pours wine without removing the cork. The wine technology company's latest development is a small machine (
below
) that will help wineries share preserved tastings of wine with a wider audience, allowing younger consumers to "try before they buy" and to taste finer wines at more affordable prices.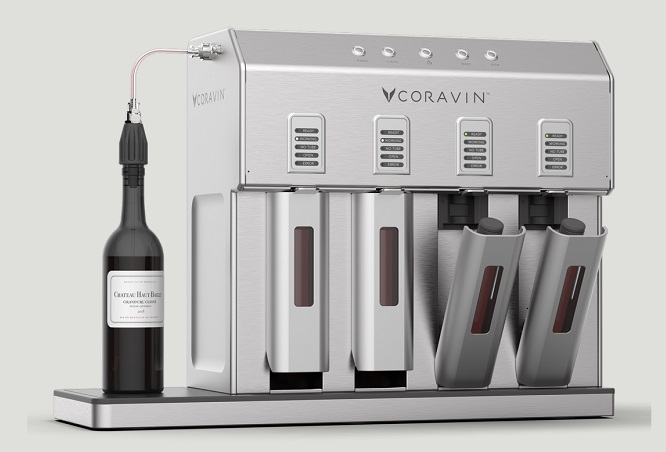 "During the early days of the pandemic, we spotted a gap in the market for this type of self-use fractionalization device that would allow our customers to send samples, preserved for months, to their trade customers and consumers," Coravin CEO Chris Ladd says. "Since then, we have continued to see the wine industry struggle to connect with a younger consumer audience who have far more options to choose from than previous generations. Coravin Vinitas addresses this need and is primed to change the way the world consumes wine."
Designed for wineries, distributors, retailers, and wine schools, Coravin Vinitas is a tabletop device that conveniently transfers wine from full-size bottles (or tanks and amphorae) into smaller bottles, preserving the quality of the wine for up to 12 months. "The wine never touches oxygen," Greg (
below
) explains as he demonstrates the machine for me using 100ml sample bottles. But he says it can handle smaller and larger sample bottles (from 50-187.5ml).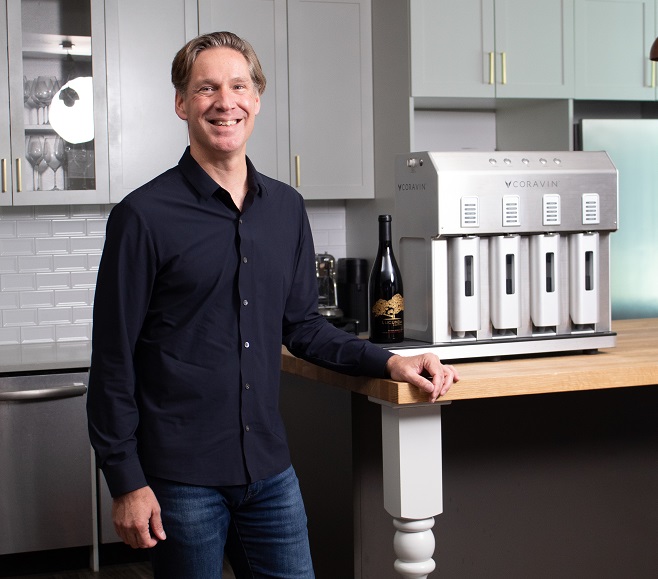 "It's a mini bottling line," he points out.
In the demonstration, he sparges the bottles and transfers the wine using CO2 but expects most wineries to use argon or nitrogen.
The device breaks down a bottle into seven 100ml tubes in three minutes (with 50ml left over, so it's best to do it in pairs). It can break down a case in about 30 minutes.
"Instead of shipping a full bottle to someone who's only going to take a sip, you send a 100ml sample or you can send six wines for the same weight," he says.
He expects wineries to use it to send out samples of new wines to critics, influencers and wine club members. And he expects distributors to make up and drop off selections at restaurants, allowing sommeliers to taste their range in their own time.
Coravin Vinitas also meets the demand for a more sustainable method of sending samples – as it reduces sample and shipping costs.
"Until now, there has not been a scalable automated product that creates single-serve formats and maintains the quality of the wine inside for months, as opposed to weeks," Greg says. "With Coravin Vinitas, companies, hospitality services, and trade can sample and fractionalize any bottle, any time, on-site, ensuring the highest quality experience for businesses and consumers, no more needlessly shipping full-size bottles where only a taste is needed."
He spent more than 18 months building and testing the device with wineries, retailers, and wine schools around the world including Napa Valley Wine Academy, Langton's, Ceretto, Château Montelena, ONX, Alkina, Stéphane Derenoncourt of Domaine de l'A, Château Haut Bailly, Tooth & Nail Wine Co, Benom, Clos Solene, wine consultant Claudio Martins, and sommelier Justin Leone.
'We're making improvements really fast'
The business model involves leasing the machine because, as Greg explains, "we're making improvements really fast. We'd like to increase the speed for some of the larger wineries like Gallo. They're going to do 100,000 samples."
Rental cost is £750/€860 per month, with the 100ml clear bottles costing about £1/€1.15. More sustainable coloured glass bottles are in the pipeline.
For smaller producers, Greg sees the development of a network of 'hubs'. "We'll have a hub in Burgundy, a hub in London," he plans. At the launch of the machine at the London Wine Fair, he talked to a bottler in England who "wants to fractionalise everybody's wine".
Coravin Vinitas is part of the Coravin Professional series, which incorporates the Model Three Professional (so wineries and restaurants can pour high-end or rare wines without removing the cork), Pivot Professional (so restaurants and bars can pour high-volume wines by-the-glass in seconds and preserve the remaining bottle for up to four weeks), and Coravin Sparkling (which preserves the crisp flavour and effervescence of sparkling wines for up to four weeks).
Coravin Sparkling is one of Greg's favourite inventions. "Now I have six bottles (of sparkling wine) open at all times," he reveals. "I don't care. I come home and that's what I have – a glass of sparkling. It's the first thing I do. I just rotate through six bottles." These include sparkling wines from France, Italy, Spain, England, New Zealand, and Tasmania kept fresh by various prototypes he developed during the Covid pandemic. "Six is growing to 12," he admits.
Greg also has his own Vinitas machine at his condo in Boston, USA. "I break down bottles for the airplane – I don't want to drink their wine," he admits. "It's 100ml, so I'll have a Beaujolais, a Bordeaux and a Burgundy! It's changed my flying life!"