Standing in the middle of the vines with Michelin-starred chef Michael Caines MBE, it makes perfect sense: how this small vineyard in Devon, England, could produce an exceptional Pinot Noir from its first year of production.
It's June and it's incredibly hot. We're surrounded by five-year-old vines of the early ripening Pinot Noir clone FR1801 (on SO4 rootstock). These are the vines that produced England's best Pinot Noir in the International Wine Challenge 2023. Last night they gave Lympstone Manor – awarded a Michelin star six months after opening – the trophy for the best wine in its first year of production, with the IWC judges gushing: "What a beauty! All the cool, bright-eyed scent of cherry blossom and rose, mingling with pink apple and strawberry fruit and the slightest chew of red plum skins. A fantastic wine!"
A bottle of this English red wine costs £110 in the restaurant and hotel at the top of the slope.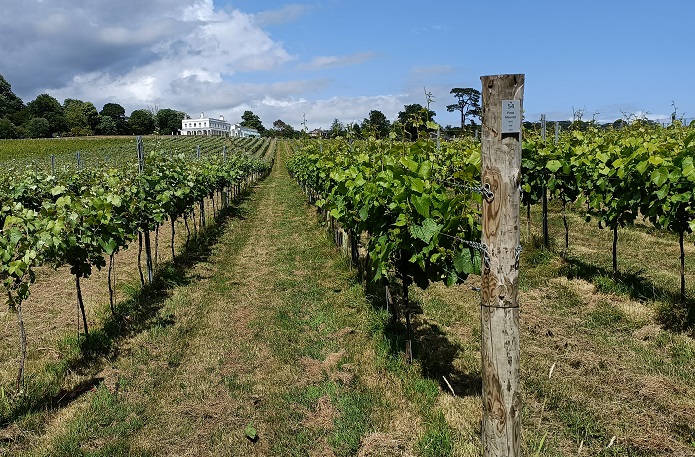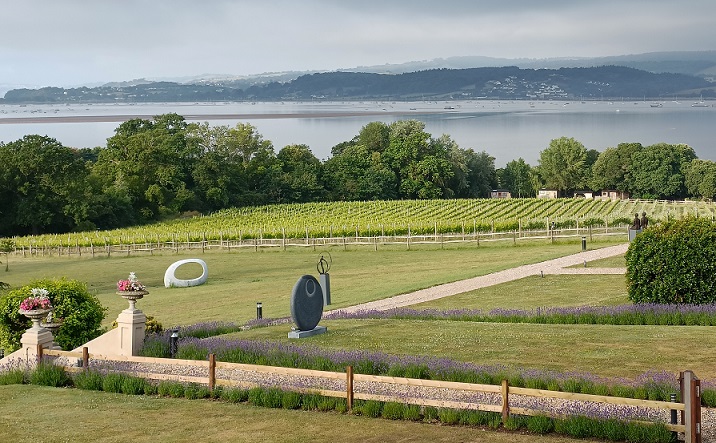 From the terrace outside this Grade II-listed Georgian manor house, the vineyard looks pocket-sized. But, standing in the middle, you can see the undulations, the bowl in the centre and it seems like the 11 acres (4.4ha) it is.
Surrounded by 17,500 vines, Michael informs me that Pinot Noir makes up 50% of the plantings. There are two other clones of Pinot Noir in adjacent rows – GM20-13 and F105S – as well as three clones of Chardonnay (30% of the vines) and two clones of Pinot Meunier (20%). They were all planted in a southwest direction in May 2018 with the goal of producing a premium Devon sparkling wine, Lympstone Manor Classic Cuvée, for the Michelin one-star restaurant.
The estate's first sparkling wine will be launched in October, after three years on lees. It's a blend of 49% Pinot Meunier, 29% Chardonnay (of which 22% was barrel-fermented) and only 22% Pinot Noir – because all the juice from the FR1801 clone went into the still red, Lympstone Manor Estate's Triassic Pinot Noir 2020, which was fermented in stainless steel and aged in new and used French oak barrels. It is named Triassic because the landscape here, just outside Exmouth in southwest England, was formed in the Triassic Period (252-201 million years ago).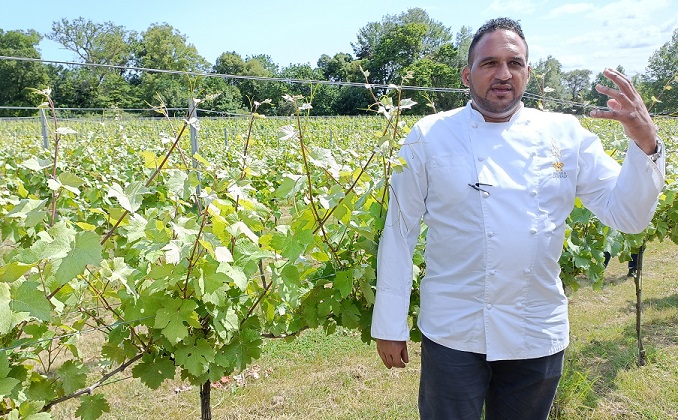 As we stand next to the vines that delivered the fruit for this red wine, Michael admits it was "a good accident; it wasn't our intention". The FR1801 clone ripened so quickly – "the Brix levels were insane," according to Michael – that the team at winery partner Lyme Bay, 25 miles away in Axminster, told them to pick immediately.
"They were so far forward when we sent the grape samples to James (James Lambert of Lyme Bay Winery), he couldn't believe they were from Devon. He's never had samples of grapes of that high Brix levels from Devon," Michael recalls. "He thought it must be from Essex (the warmest and driest county in the country). He said you've got to pick them. If you don't pick the 1801 it will be too much. But then he said you've got an option: you can leave them and do a Pinot Noir. Best thing we ever did."
Lyme Bay produced 6,000 bottles of sparkling wine – including 150 magnums – and 2,200 of the red wine that first vintage, 2020, when the vines were only in their third growing season. Michael believes this single vineyard could produce 30,000 to 40,000 bottles annually in a good year, when the vines are more mature. They aim to age the sparkling on lees for three and five years before release. The poor 2021 has been blended with the reserve from 2020, but there could also be a vintage sparkling wine from 2022.
There are also 600 bottles of oak-aged Chardonnay, a rosé named after Michael's youngest daughter (Isabelle), and a blanc de noir in the pipeline. "This time next year we'll have a rosé, a Chardonnay, a Pinot Noir and a classic cuvée," Michael says. "The year after we'll have a millésime and a sparkling rosé and a blanc de noir." He is also considering a Pinot Noir using all three clones.
"What I want to do is produce a portfolio of wines that are differentiated by colour."
Looking around the Guyot-trained vines that were pruned in February, I can see the FR1801 has started flowering. It seems very uniform. I can see they are protected from sea breezes by a line of trees near the shore. I can smell and feel the salt from the estuary in the air, as the gentle breeze ruffles the canopies at the top of the vineyard. I can see these vines are unlikely to be troubled by frost, one of the biggest problems for most UK vineyards.
When Michael, holder of two Michelin stars for 18 consecutive years, and his backers bought the rundown manor house in 2014 and transformed it into a contemporary five-star hotel with a restaurant – and long before vines were planted here – he called the project the Lympstone Manor Hotel, Restaurant and Vineyard.
He says: "When I first set foot on what was then Courtlands, I immediately imagined transforming the dilapidated Georgian manor house into a luxury hotel with Michelin-star restaurant, as well as planting a vineyard on the overgrown parkland that led down to the Exe estuary. It just seemed the right and most natural thing to do in this remarkable and privileged location. This first vintage of Triassic Pinot Noir has far exceeded our expectations and demonstrates that there is a real and exciting future for single estate wines from Lympstone Manor."
'There is a real and exciting future for single estate wines from Lympstone Manor'
He points out: "Most of the great vineyards of Europe are all located near rivers. So why not the Exe estuary?"
Weather data shows it is one of the best sites in the southwest of England for growing grapes. "It's the same sun and rain and all of those other elements – exactly the same as Nyetimber," he declares. He refers to Nyetimber, one of the standard bearers for English sparkling wine, a good deal during my visit. It's clearly his benchmark brand.
We walk up the gentle slope. There will be an illuminated path through the vineyard to the six shepherd huts and row of roses at the bottom of the slope one day. There are wooden end posts for aesthetic reasons and metal intermediary posts with adjustable foliage wires keeping the shoots tidy. Sheep may be brought in to graze here over winter.
Steve Edwards, operations director, explains: "Quality is what drives this site. Whilst yield is important – we need a return on investment – it's primarily about quality to reflect not just the vineyard site but what Michael does in the kitchen, the restaurant, the hotel. The whole experience has to be driven by quality."
Michael adds: "We'll never produce a wine under the label of Lympstone Manor that isn't from this estate. That single vineyard status is so, so important to us."
As we near the top of the slope, where a row of roses will be planted later this year, Michael explains why he planted the three classic Champagne varieties. "I think with a small vineyard the most obvious route to go down is where you can manipulate the end result and you know that making English sparkling wine is what we're getting good at in this country. And if you are good at making that you've also got the opportunity to do Pinot Noir and Chardonnay, two of my favourite wines. So, for me, I thought we should stick with the idea that we want to produce wines for the hotel that we can serve by the glass."
He's hoping he can make a bottle of sparkling wine for £8 or £9 and sell it in the hotel for £15 a glass. "That's a good return," he continues. "£150 a bottle, doesn't really matter, the point is I know that the return on investment is going to be guaranteed for sparkling. Now we can diversify with still wine – rosé, Pinot Noir, Chardonnay – and also do blanc de noir and blanc de blancs and millésime. For me, that was a better way to go. I just have 28 acres of parkland."
As we continue past the pool and into the Pool House Bar & Restaurant, which offers a more relaxed dining experience, Michael reiterates: "The main part of our business is hotels – bums on seats, bums in beds; the reality is this (the wine business) still has to create a commercial return and it takes time."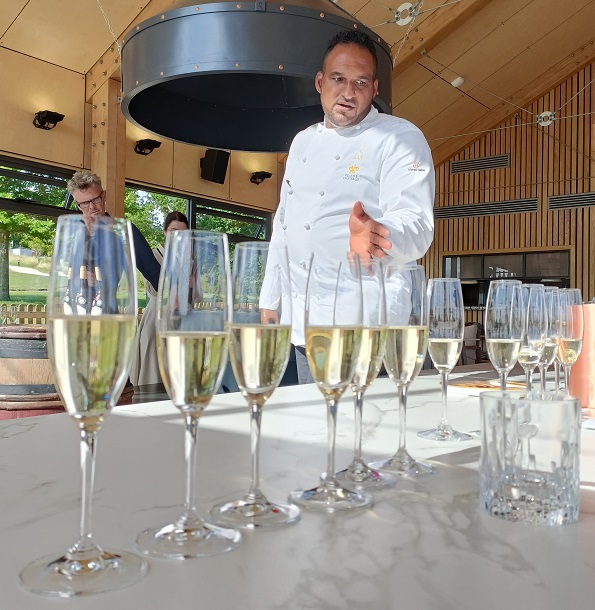 In the Pool House, I get to try the classic cuvée with dosage levels of zero to 9g/L. There is a small group of wine experts in the room. Most, like me, favour the wine with 3g/L dosage. It turns out we have validated Michael's choice – and he announces this is what they will add when 1,000 bottles of the wine are disgorged this month ahead of their release during Lympstone Manor's harvest festival in October.
"You have created the house style," he announces.
James Lambert comments approvingly: "Right from the start of the project, Michael said he wanted something that brings this very luxurious style that will suit the estate and the cuisine."
The Pinot Noir, Chardonnay and Pinot Meunier were vinified separately. Some of the Chardonnay was fermented in oak, as winemaker Sarah Massey thought it would "create the beautiful rich style that Michael wanted".
The Chardonnay went through MLF. Bâtonnage was weekly at first, then fortnightly, then every month during the nine months in barrels. Three of the best barrels were kept in reserve and have been used to boost the poor 2021 vintage.
Walking from the Pool House to the manor house, which was once owned by the Baring banking family, we pass a fountain decorated with large pebbles that surfaced in the vineyard during the planting process. It gives a glimpse of what's under the clay soil.
On the terrace outside the 21-room hotel, with its commanding views of the vineyard and estuary, we are presented with a glass of Nyetimber Classic Cuvée.
"For me, as a chef, Champagne is all about aperitif – it's all about pre-dinner," Michael says. "It's got to give you an appetite. This is where we're going to be mostly selling our classic cuvée – on the terrace, looking out over this amazing vista, with canapes."
Referring back to the 3g/L dosage, he adds: "We always see wine and food in the context of existing together, not in pure form. We want to create amazing memories for people to take home from their time with us and so, if you've got a chance to do a wine, it's better that we do a wine that's going to be more pleasing on the palate – across female and male palates – and, secondly, that we've got something that's going to age and also be food friendly."
In the restaurant, the Triassic Pinot Noir 2020 is paired with pigeon pithivier with celeriac and truffle puree, salt baked celeriac, truffle and Madeira jus. Michael comments: "We can sell it at a premium because of who we are and what we do.
"Our model is very different. Keeping it a closed market makes sense when you've got a small production."
They have sold more than 600 bottles of the wine already and only have 1,500 or so left. "If we were to sell those at £25 a bottle, that would be silly," Michael states.
In the future, they may put 500 bottles on allocation "to help promote the brand of Lympstone Manor Estate, but I don't need to sell any of it outside the restaurant," Michael continues. "So far, we haven't allowed the wine to be sold (outside the restaurant) but people have said, 'Can we buy the red wine?' We've said we're not actually retailing it and they've said it's on the wine list for £110, can we buy a bottle of red wine, not open it and take it home? Yes, you can, £110 no problem. That's what people have been doing.
"When we come up with a price for it on retail, we can be a bit ballsy because, first, we don't have to worry about selling any; secondly, we've only got a small amount; thirdly, we need to be approachable yet at the same time not undermine the reality of what we're doing here: the little bit of added value of having that wine in a tasting menu in a wine flight.
"I'd rather sit at home and drink all the bottles than devalue it by selling it for £20 a bottle. We don't need to."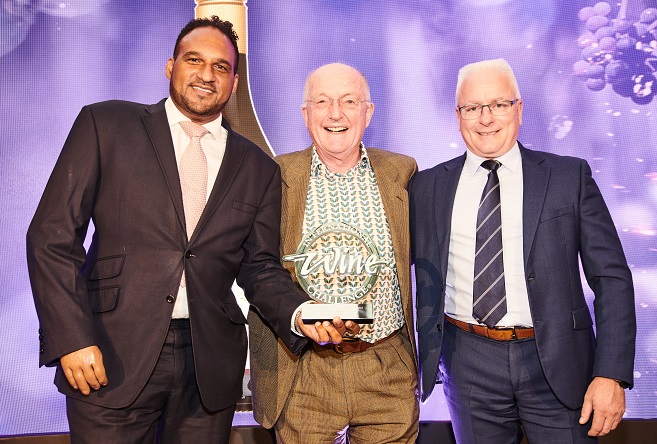 When the conversation moves on to the IWC gold medal and award, Michael confesses: "It turns the vineyard mindset on its head: do you produce more Pinot Noir or do you put more production into sparkling? My feeling is, expand the portfolio because that makes sense because we don't need 18,000 bottles of classic cuvée as we can only sell 3,000 and age 2,000. We can put more into reserve and we may offer the opportunity for Lyme Bay to sell it as part of their portfolio and sell it online as well."
As for the future, Michael says: "We just want to continue making great wine. More production, more opportunity."
Handling the bottle, I notice the branding is all about Lympstone Manor. Michael tells me he hasn't put his name on the wine for a couple of reasons. Firstly, he says, "it would undermine the talents of the various people who have played their part along the way. It's a collective in many ways." The second reason is that he wants to make Lympstone Manor a brand in its own right. "If I was to think about selling this estate in ten to 15 years' time, they've got a problem if I'm not around. Whereas if I develop a strong identity in Lympstone Manor – Lympstone Manor Estate, Lympstone Manor Hotel – then the equity is in the brand of Lympstone Manor, so what I've tried deliberately to do is reinforce the Lympstone Manor brand."
As the day draws to a close and the light fades over the vineyard, Michael reflects: "You never know what you're going to get when you chuck a few vines in the ground. It could be a complete waste of money or it could be a good story."
The Michael Caines Collection
The Michael Caines Collection also includes the highly acclaimed Mickeys Beach Bar & Restaurant and Café Patisserie Glacerie in Devon and The Cove Restaurant & Bar and The Harbourside Refuge & Bar in Cornwall. A motoring fan who lost his right arm in a car accident in 1994, Michael has also acted as a catering consultant to the Williams F1 team.