When pressing Cabernet Sauvignon, there's a sweet spot between .4 and .8 bar of pressure that produces "liquid gold". Filtered wines age better. Medium-long toasted barrels are best for Cabernet grapes from California's western Rutherford bench. Beaulieu Vineyard in Napa Valley is reorienting some rows of vines, moving certain blocks to a Lyre training system and increasing the number of leaves in the fruit zone in response to climate change...
These are just a few of the things I learned from a fascinating in-depth conversion about winemaking with Trevor Durling, the chief winemaker at Beaulieu Vineyard, which produces one of Napa Valley's most iconic red wines.
The Georges de Latour Private Reserve, first produced in 1936, has become the gold standard for Napa Valley and Rutherford Cabernet Sauvignon. I quizzed Trevor on the techniques he used and the decisions he made for the latest release, the 2019 vintage.
The vineyards
The Cabernet Sauvignon grapes for the Georges de Latour Private Reserve come from the western bench of the Rutherford AVA, where the winery is located – and mostly from BV Ranches No. 1 and No. 2, where the well-draining alluvial fan soils were originally planted by the founder, Georges de Latour, in the early 1900s. The clones there are 6, 4, 169 – which make up 75% of the blend – and 7 and 8. The low-yielding UC Davis clone 6 is one of Trevor's favourites as it yields small berries with a high skin-to-juice ratio. He also likes the elegant newcomer 169 (from Bordeaux) which adds freshness and floral notes.
Trevor, who grew up in Sonoma County and studied viticulture and oenology at the University of California, Davis, describes the farming here as "sustainable, on the way to organic," adding: "We're always using organic materials wherever we can."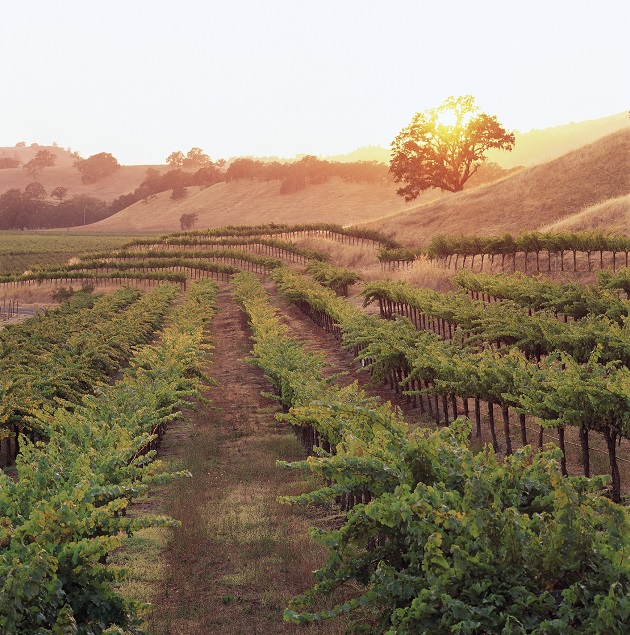 Climate change
Cabernet vines in the Napa Valley typically start to decline in terms of yield and quality (because of the disease pressure) after 30-35 years, according to Trevor. When Beaulieu Vineyard – owned by Australia's Treasury Wine Estates since 2015 – embarks on a replanting programme, it considers the suitability of the clone and rootstock for each parcel in its 1,100-acre estate. It now also considers the row orientation and canopy management.
Trevor explains: "With the rising temperatures that we've been seeing, we want to really make sure we're getting away from those blocks where the row orientation is due north-south because you want to avoid that intense heat in the afternoon, so we're making sure to offset them to where we get enough of that warmth in the afternoon and in the morning but not so much as to where you get sunburn."
The offset to the east or west can be anything from a few degrees to 40 degrees, depending on the site (the amount of slope, proximity to the mountains, etc).
They are also changing over to the Lyre trellis system, which was developed in the 1980s by Alain Corbonneau in Bordeaux to allow more wind and sun into the canopy for greater fruit yields and reduced mildew.
"It's more labour-intensive to farm but the benefit is that you have a lot more play in terms of your canopy management and you're able to control the dappled sunlight much better than with vertical shoot position systems," Trevor says. "It also creates the scenario where you have free hanging clusters, so you avoid clumping – where you have clusters on top of each other and you don't get that uniform ripeness around the cluster – which is, at the end of the day, what I want to see when I make that decision to harvest. Also, you have the sunlight hitting it 360 degrees and better airflow, so you avoid mould development and things like this."
'We're really homing in on getting that perfect amount of dappled sunlight'
Another technique for controlling the amount of sunlight hitting the bunches is to leave more leaves in the fruit zone, especially on the afternoon sun side. "And even in certain cases leaving lateral shoots, which is something we would not have done historically but with these warmer temperatures the lateral shoots can actually help to protect the fruit zone," Trevor tells me. "We're really homing in on getting that perfect amount of dappled sunlight, probably a bit more shading than we would have done 10-15 years ago, and that is key to protect the fruit during a heat spell. It's looking at it differently from the morning side to the afternoon side."
Fruit from a Lyre training system has to be hand-harvested.
The harvest
HARVEST DATES: September 19 – October 25, 2019.
Harvest started later than previous years due to February rains, but it still lasted more than a month.
"That's the beauty of the Napa Valley," Trevor states. "It's a relatively small area when you compare it to many of the other well-established wine regions around the world, but we have so many different microclimates and soil types."
Trevor describes 2019 as "a dream of a growing season" and "a phenomenal harvest". Like 2018, "it was somewhat of a leisurely harvest because there was no pressure from Mother Nature to harvest earlier than I wanted to; it allowed me to really chisel out the different parts of each block and bring them in at the perfect time, and keep them separate throughout the whole process. It gave me more time to think."
The winemaking
Hand-picked at first light, the grapes go into half-ton Macro Bins for the short journey to the winery.
"We stop accepting fruit deliveries after 10am," Trevor says, as we start diving into the details behind the acclaimed Beaulieu Vineyard Cabernet Sauvignon Napa Valley Georges de Latour Private Reserve 2019, to give the wine its full name.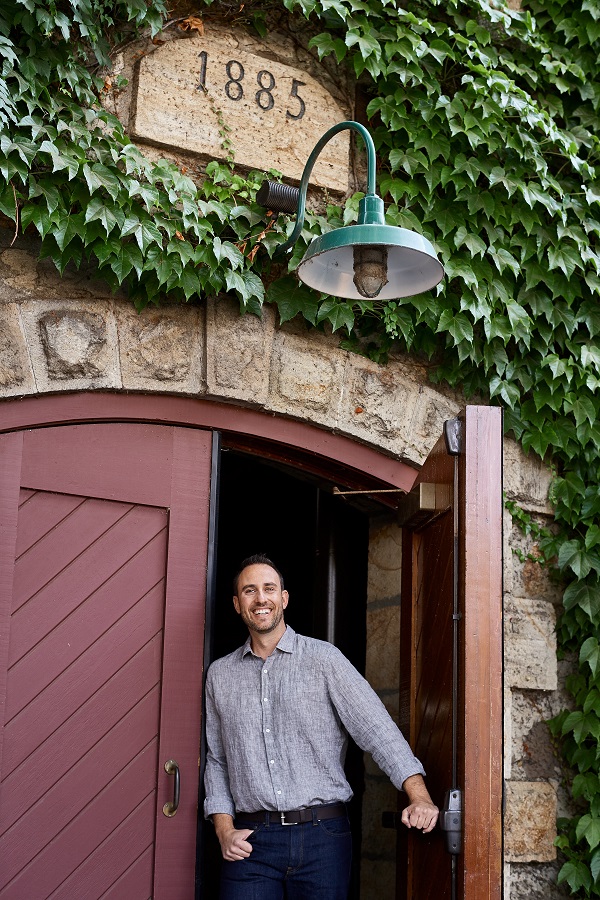 At the historic winery, the grapes from the historic vineyards are greeted by some of the most modern equipment available – including a Rotovib destemmer, which gently vibrates the berries from the stems.
"We are traditional in our overall approach – they are very terroir-driven wines that express the vineyard – but we also have the latest and greatest technology available at our fingertips."
An even layer of berries goes through an optical sorter run at a slow speed to ensure ultimate accuracy.
An "extremely gentle" peristaltic pump then pushes them into the chosen vessel. Clone 169, for example, usually goes to stainless-steel tanks "because of its perfuminess" and "because I want to highlight that elegance and incredible aromatic character". Trevor adds: "If it's a block that can handle oak right away, I'll put it through barrel fermentation. If it's a block that has slightly more astringent tannins, I will often choose concrete because concrete has a wonderful way of softening aggressive tannins. If I'm going to increase the skin contact time, the best vessel by far is concrete because it holds a consistent temperature and you have a little bit of that percolation through the pores…
"We have many, many options in terms of how we want to parcel out ever smaller chunks from each vineyard block, so we do have the capability to keep everything separate."
The Cabernet going into the tanks gets a cold soak for a week (but sometimes up to ten days). "I do this because I want to get some of that extraction (of phenolics and colour) done in the aqueous phase…
"We are very fortunate because we have enough tanks to do that."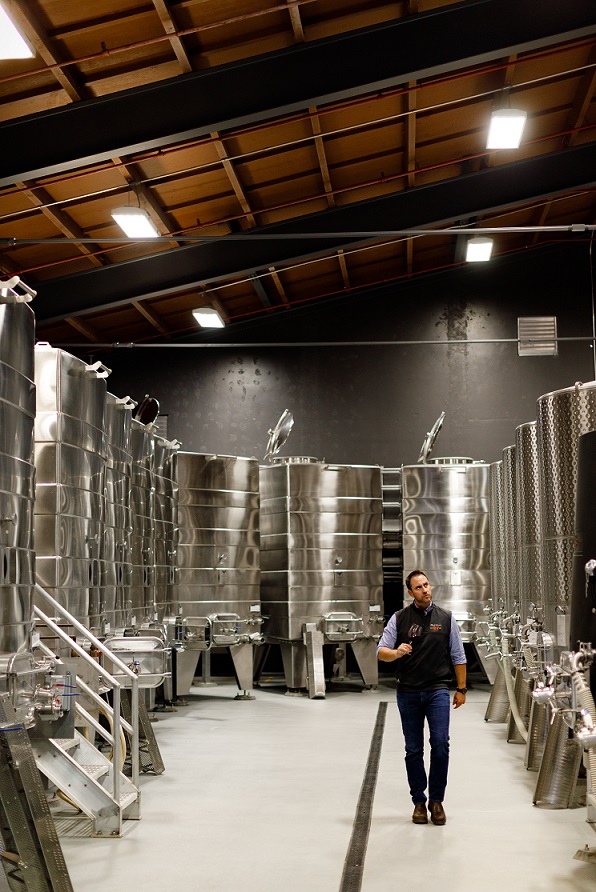 In the tanks, the extraction is assisted by automated pumpovers (spaced evenly through the day and night). Each tank has its own centrifugal pump!
"When I feel we have had the right aqueous extraction then we heat up the tank and once it hits a certain temperature threshold, so I say a minimum of 60F (15.5°C), then we pitch the yeast. We'll also make any adjustments we need in terms of nutrient deficiency that we might have read in the must.
"We'll let it naturally warm up over the next two to three days to whatever peak fermentation temperature that I want. Usually that's between 85 and 88F (29-31°C). We'll then increase the frequency and duration of our pumpover circulations."
Having automated pumps for this means he can keep the cap moving and broken up without overextraction. "It's also very good for the yeasts' health and also for temperature uniformity throughout the tank."
There are also venturis that pull oxygen in during the pumpovers. "In my opinion there is no such thing as too much oxygen in Cabernet fermentations because you want that yeast to be very happy throughout the entire fermentation and you also want to create an environment where some of those harsh tannins can bridge together and soften."
Approximately threequarters of the must is fermented in stainless steel and concrete to preserve the freshness of the fruit. Most of the stainless-steel tanks have pressure transducers – two probes taking constant readings of the pressure differential between them and recording the drop in Brix during fermentation. When it drops below 15, for example, the pumpovers can be programmed to taper off (in frequency and duration) while the tank changes temperature. It allows Trevor to adjust the fermentation curve "to what Mother Nature has given me that year". He adds: "This is very important. You don't want to take the same approach every single vintage. You need to read your tannin makeup. What kind of extraction do I want? Is it a year that has a lot of short-chain tannins that might be more aggressive? If that's the case, I'm going to back off on my circulations. If it's a year when the tannins are soft and we want to extract more, then I will ramp it up."
'With the amount of yeast strains that we have available to us today, you can get incredible complexity by inoculating'
Beaulieu Vineyard generally inoculates from a selection box of three or four yeast strains. Sometimes Trevor will pitch in some non-
Saccharomyces
to ferment "lightly" during the cold soak – to add "aromatic complexity" before the inoculation with
Saccharomyces cerevisiae
. Occasionally he'll opt for a spontaneous fermentation. "We do this in certain scenarios where we feel (from analysis of the must sample during the cold soak) we've got a really healthy beginning chemistry. If there's nothing that's dangerous, I'll warm the tank up and let it go. I don't do this very often because the risk tends to outweigh the benefit. With the amount of yeast strains that we have available to us today, you can get incredible complexity by inoculating."
Generally, the fermentations last ten to 14 days. As soon as they finish, the tanks are drained and the skins go into a basket press.
"I don't tend to hold them on the skins for very long anymore because I've had that cold soak period," Trevor explains. "In certain years where the phenolic profile is appropriate, then I'll extend the skin contact a little bit. But usually we drain upon dryness."
With the pressed juice, the fractions are kept separate for Trevor to taste, reuniting the good stuff with the free run and directing the rest to either the pressed tank or to a tank of its own "to see what happens over time".
Regarding the press fractions, Trevor informs me: "There is kind of a sweet spot between .4 and .8 bar of pressure that is just liquid gold; it is awesome. That tends to go back into the free run and usually the stuff on each end is not great and we kick it out."
'Our vineyards are singlehandedly our greatest asset and we want those to be highlighted'

Oak fermentation
Approximately 25-30% of the juice is fermented in new French oak barrels for "early integration and a dense, rich texture". This is less than his recent predecessors at Beaulieu Vineyard used.
"They're incredible wines but, in my view, you run the risk of losing that terroir expression which is our greatest asset," Trevor reasons. "Our vineyards are singlehandedly our greatest asset and we want those to be highlighted."
He adds: "The reason we do barrel fermentations is for a textural element. When you ferment in barrels on skins, the heat of the fermentation will extract different things from the wood than you will at cellar temperature."
He wants tannins that will beef up the wine and increase its ageability; and non-fermentable sugars that will give a "perception of roundness and softness" and make the wine more approachable in its youth.
This is one of the winemaker's biggest challenges. As Trevor puts it: "How do you craft a wine at this level that you know can lay down for decades but also tastes pretty damn good right out of the gate? Barrel fermentation is one of those tools that we use in the winery to help accomplish that. Now there's a fine line: you don't want to go too heavily this way because it can become more about the barrel than the wine itself. And why would I want to take some of the best terroir expression in the world and over-oak it? So, you do it with very specific parcels that will add that textural component that you want and then it gets blended in with these other components and then you have the picture-perfect wine."
Barrel fermentation takes place in a room kept at 80F (26-27°C). 400lb (181kg) of must goes into an open-top barrique. Once the head is put back on, the barrel is put on a rack where it can be rotated during the fermentation process. Trevor describes the barrel-fermented component of the wine as "logistically demanding", pointing out that 10 tons of grapes from one vineyard block can go into one tank or 40 barrels – that's either one or 40 fermentations to monitor – so the quality threshold for the barrel-fermented grapes is "very high".
There is also a higher risk with this component because, as Trevor says, "you don't have a way to cool or warm these barrels".
To help him understand what's going on inside the barrel during the rotations, they fit plexiglass heads to the first couple.
What Trevor is looking for is a tumbling effect, as if the berries were in a tumble dryer. "If you go too fast, then you have the skins going to the outside and you don't have any true mixing. If you go too slow, the cap will sit there as the barrel rolls around," Trevor explains.
After the fermentation
Once the fermentation finishes dry and the lees have settled, the wines are sulphured and racked to tanks. "We'll taste everything and look at the chemistry and composition, make any adjustments as needed and then they go back down to barrel."
The 'adjustments' include inoculating for malolactic conversion. "One of the great benefits of being such an old winery – this building was built in 1885 – is that you have all of these natural microbes around and most of it is very healthy lactic acid bacteria and so you could basically just put it down to barrel and they will go through malolactic," Trevor continues. "But I have specific strains that I want to complete that fermentation, so we do inoculate. We'll typically do that in the drain tank and then we go down to barrels. So, most of our malolactic fermentation will happen in barrels, and that tends to last two to five months."
Ageing in oak
BARREL REGIME: 20 months of ageing in French oak barrels (95% new).
The French oak ageing adds caramel, cedar, and clove notes to the wine, according to Trevor.
For a wine using 95% new oak, the wood influence on the flavour and aromas seems very subtle. Trevor tells me there are two reasons for this: "I'm very selective about the barrels we use. We have a group of coopers who really understand what I'm trying to do with the wines and most of our barrels are very specific for us, with specific toast levels, and they are paired perfectly with each vineyard block. I have definitely adjusted the barrel profile over the last few years to get away from those heavy-impact, heavy-toasted barrels. We're leaning more towards medium toast which will be structure-building, but they won't overpower the aromatic profile. I will also use quite a bit of medium long (toasted longer at a lower temperature).
"Secondly, Georges de Latour is a wine that has such a powerful terroir expression in the backbone that it can handle that much oak and the fruit will still overpower the oak profile."
The wines get racked two to four times during the ageing period. This is "entirely based on the vintage" – depending on whether they need a more reductive approach or a little more oxygen.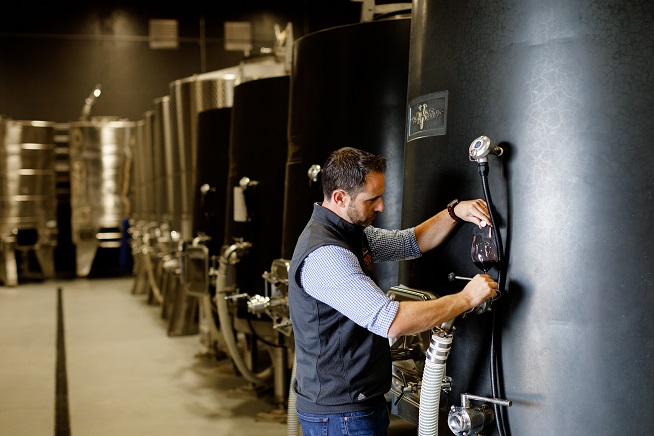 Blending
VARIETAL COMPOSITION: 91% Cabernet Sauvignon, 9% Petit Verdot.
There is an unusually high percentage of Petit Verdot in the 2019 wine. Usually the Petit Verdot component – which is added "to further enhance the aroma and flavour profile" – is 3-4%.
It takes the team about six months to land on the final blend. They build the base and "continue growing" it. "Then," Trevor says, "we get to the point where we are tasting barrel by barrel. Petit Verdot is usually the last component to be blended in because I want to see the structure, what is the foundation of Cabernet?"
They taste the potential blends blind, rank them, and repeat the process.
"Petit Verdot, that year, every time we dosed it in, it improved the wine and it added this layer of complexity. It was just amazing."
Most of the Petit Verdot is vinified in tanks, with shorter time on skins and a softer approach to the extraction compared to the Cabernet. "I will occasionally go wild and put a little in oak, but usually for experimentation – although it has worked in the past.
"With Petit Verdot you have to be very careful as it's extremely structured, so a little bit goes a long way."
The finishing touches
"I have never fined Private Reserve, we've never had the need to," Trevor states, as we move on to the finishing touches for this exceptional wine.
It is filtered before bottling – slowly, carefully and nominally to remove any potentially dangerous yeasts but without stripping any of its flavour, aroma or character.
"What I have found after 20 years of research with this is that filtered wines, in my opinion, tend to age better." He always bottles a certain amount unfiltered to see how it progresses over the years "and every single time, the filtered version will outlast the unfiltered version".
Trevor adds: "The unfiltered wines tend to give you more expressiveness early on – they don't really go into bottle shock the same way."
The wine is held in bottle for at least one year but usually 14 months before its eagerly anticipated release.
Alcohol:
14.7%
Total Acidity:
6g/L
pH:
3.73
Ageability:
2022 to 2052