It's 15 years since Portugal's wine stars João Ferreira Álvares Ribeiro, Jorge Roquette, Dirk van der Niepoort, Cristiano van Zeller and Vito Olazabal teamed up to promote the Vale do Douro.
As the 'Douro Boys' they have been working to make their native wine region better known, to highlight its potential for red wines and to reposition its Port wines.
To celebrate their 15th anniversary, each of the five estates (Quinta do Vallado -
pictured below
, Quinta do Crasto, Niepoort, Quinta Vale D. Maria and Quinta do Vale Meão) has contributed its "most expressive" barrel of red wine and its best cask of vintage Port from the 2017 vintage. After three nights of blending deliberations, the winegrowers have created a "complex and elegant" red cuvée from these barriques, and a "sensational" vintage Port.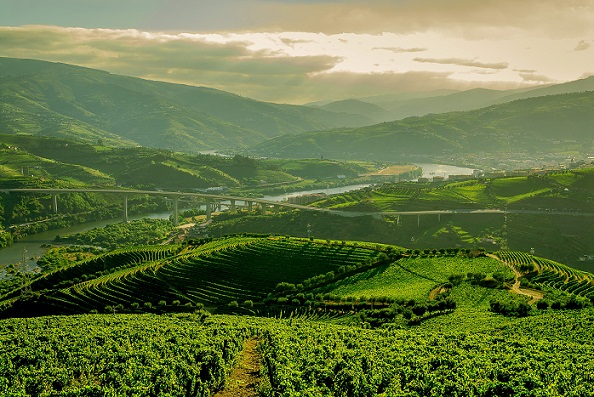 These two special edition bottlings will be sold at an auction at the Six Senses Douro Valley hotel on Thursday (October 10, 2019).
It's the third time the Duoro Boys have released their cuvées this way. The 2005 and 2011 vintages also went under the hammer of British auctioneer Peter Mansell, wine specialist at Christie's in London, who will once again conduct the auction. At the 2013 auction (
below
), the starting price of the Douro Boys Cuvée was €140 per magnum bottle – today it's difficult to find this wine for less than €400.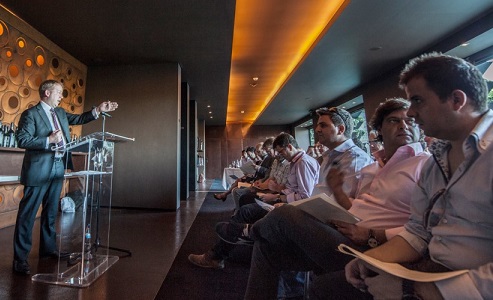 Both the red wine cuvée and the vintage Port are bottled exclusively in magnums and will be offered in lots of various sizes.
A total of 750 magnums and 28 double magnums of the red-wine cuvée, and 350 magnums of the vintage Port will be auctioned. They have been organised into 50 lots, along with some rarities from the five quintas or exclusive private experiences with the winegrowers – including a day fishing on the Douro with Jaime Olazabal, surfing lessons from Miguel Roquette, a game of chess with Dirk Niepoort, a vertical tasting and dinner with Francisca van Zeller, dinner in Macau with João Ferreira Álvares Ribeiro, and a 'harvest experience' with Francisco Ferreira. This experience includes 'foot-treading in the lagares' – one of the many techniques used for the component parts of the cuvée.
The smallest lot is a single magnum of the red wine, with bids starting at €100, and 18 of the 50 lots have starting bids of less than €1,000. Among the lots with the highest starting prices are €6,600 for 66 magnums of the red cuvée, €8,250 for 60 magnums of the cuvée and 18 magnums of the Port, and €10,800 for 48 magnums of the cuvée and 48 magnums of the Port.
Some of the revenue will be donated to Bagos D'Ouro, an organisation that supports education in the Douro, while the rest will be used for marketing the region in 2020.

The red wine
Douro Boys Cuvée 2017Producers:
Douro Boys (Nieeport, Quinta do Crasto, Quinta do Vale Meão, Quinta do Vale Dona Maria and Quinta do Vallado)
Sub-region:
Baixo Corgo, Cima Corgo and Douro Superior
Vineyards:
80% very old vineyards and 20% 40-year-old vineyard
Soil type:
Schist
Vine training system:
Guyot
Blend:
80% mixed varieties from old vineyards, and 20% from 40-year-old Touriga Franca vines
Acidity:
5.2g/L
pH:
3.69
Residual sugar:
< 0.6g/L
Alcohol by volume:
14%
Winemaking technique:
Different vinification techniques were used by each producer. Some of the wines were foot trodden and fermented in traditional granite lagares, while others were fermented in stainless steel vats with temperature control.
Ageing/maturation:
18 months in 225L French oak barrels
Barrels:
50% new French oak barrels, 50% second-year barrels
Ageing potential:
20 to 30 years in bottle
Winemakers' comment: 
"This cuvée unifies the structured elegance of Vallado, the uncompromising freshness of Niepoort, the charming fruit-driven character of Crasto, the aristocratic minerality of Vale Dona Maria, and the enchanting body of Meão."