In many ways the Dr Konstantin Frank Winery, in New York state's Finger Lakes wine region, is experimental. In its vineyards it has the ancient Georgian varieties Rkatsiteli and Saperavi as well as Grüner Veltliner and Cabernet Franc. It ferments Pinot Blanc and Pinot Gris in concrete eggs, and makes a trendy skin-contact Rkatsiteli in amphora.
The founder, Ukrainian émigré Dr Konstantin Frank, set up the vineyards "more as an experimental station than a business venture", according to his grandson, Fred, the current president (
pictured together below
). This was because Konstantin wanted to prove it was possible to grow
Vitis vinifera
grape varieties in New York state, a region awash with native Labrusca varieties Concord, Niagara and Catawba at the time.
But with its main grape variety, Riesling, the Dr Konstantin Frank Winery is very traditional. German clones, German yeast, stainless-steel tanks, a little residual sugar, and a flagship Riesling made in a single small vineyard planted in 1968 that slopes down to the western shores of Keuka Lake. This plot used to be called Block 8A, but now it's named after Konstantin's wife, Eugenia, who also gives her name to the Riesling made from those grapes.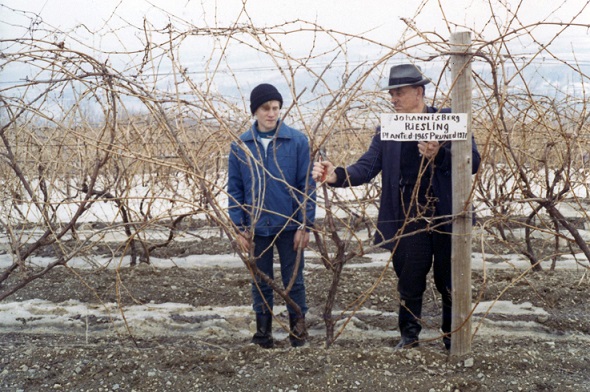 Having written about the techniques used for Riesling winemaking in one of the most traditional German wineries
last month
, I thought it would be interesting to see how it's done in the New World.
Dr Konstantin Frank Winery has been growing Riesling vines since 1957. White wines make up about 80% of the winery's output and, of these, Riesling is the main variety. They make it in nine styles, from traditional-method fizz to dessert. "Riesling has always been part of our story," says Meaghan Frank, part of the fourth generation involved in the wine business in the Finger Lakes.
She says Riesling is perfectly suited to the Finger Lakes "and Konstantin knew this from his time in the very cold climate of Odessa where he was experimenting with Riesling and he knew it would really thrive here. And because of Konstantin's experimentation and research, he didn't start a business here, he started an experimental station – because that's what his background was, he was a researcher, a scientist…
"Konstantin made America's first Riesling Trockenbeerenauslese in his first vintage, 1962. We've only been able to replicate that three other times in 60 years. He also pioneered not only Riesling to the Finger Lakes but the multitude of styles that you see today in the Finger Lakes from bone dry to dessert."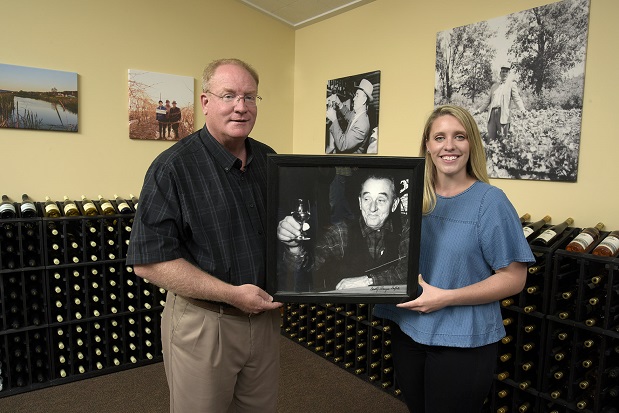 Although it is steeped in tradition, each generation of the Frank family has contributed to the ongoing story. Konstantin's son, Willy, introduced traditional method sparkling wines to the range in 1985 (they now make seven sparkling wines, mostly from the Champagne varieties but also from Riesling); Meaghan's father, Fred (
together above
), spearheaded an expansion in acreage, including to the east side of Seneca Lake, and into international markets. And Meaghan has championed single-vineyard bottlings, like Eugenia, part of the Helm Series that pays tribute to the contribution of various Frank women down the line.
Dr Konstantin Frank Winery makes more than 40 wines, including the various Rieslings – which are grown on two very different sites. The grapes for the dry Riesling come from the west side of Keuka, while the newer vineyard site in Hector, on the east side of Seneca Lake, produces the grapes for the semi-dry version (where the fermentation is stopped early).
The Franks have eight different Riesling clones. The prevailing Riesling clone in the Finger Lakes is the German Neustadt clone 90 (now known as N90), first introduced by Dr Konstantin Frank in the late 1950s and championed for its greater winter hardiness, enhanced aromatics and looser clusters. But the Franks also grow clones 88, 11, 318, 239, 49, 110, 38 in their 18 different blocks of Riesling, planted from 1958-2012.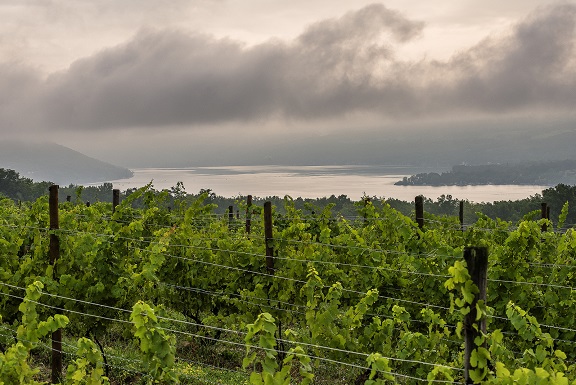 The dry style is their biggest seller. Meaghan describes it as "the backbone for the winery". When we say dry, it's all relative. Their newly released Riesling 2019 has 8.5g/L of residual sugar.
Meaghan, who has masters degrees in wine business and oenology, says the residual sugar always balances a similar amount of acidity: "We like to have 1:1 ratio with the dry style to really balance it out."
With different clones, sites and styles, the Riesling harvest can spread over several weeks, but usually takes place mid-to-late October. Some grapes may be left out until early November for a rare dessert wine. "We are hoping to do some partial and full botrytis Rieslings this year and will net some blocks that we want to leave out (to protect them from the deer and birds)," Meaghan tells me. "We are turning 60 next year and it's a perfect coincidence that we have some botrytis developing as we want something special to toast with next year."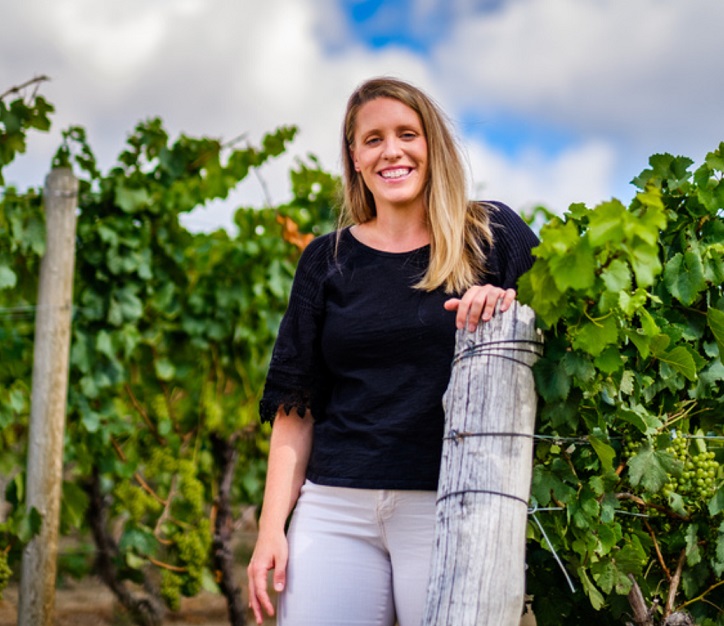 The winemaking
Meaghan (
above
) says the key winemaking steps for the dry Riesling are:
To get the fruit to the winery quickly;
Crush, destem and press;
Ferment in stainless-steel tanks at an average of 12°C. "We test the temperature (and sugar) every day of the fermentations and it ranges from 10-15°C. We had 34 different tanks of Riesling this past year with fermentations lasting between 4-6 weeks, so we certainly believe in a long, slow, cool fermentation";
Use the German yeast SIHA Active Yeast 7;
Stop the fermentation according to taste – "The 8g/L RS for that style is common for us as we stop the fermentation on some tanks based on taste and let others go dry. We do other single-vineyard Rieslings that are bone dry but we like to have roughly a 1:1 ratio of TA to RS for this style";
Keep on fine lees until bottling around March.
It's a tried and tested method and honours the vision of the company's founder.
Dr Konstantin Frank was 63 when he set up the winery to promote
Vitis vinifera
grapes. Meaghan plays some old footage of her great-grandfather. In a heavy Ukrainian accent, he explains why he was so determined to prove that European grapes could thrive in the eastern United States: "This is my duty as a scientist, and this is my duty as an American patriot."