The first part of the 2020 International Wine Challenge – Tranche 1 – threw up a few surprises.
There were three silver medals for Azerbaijan and three bronze medals for Thailand, while England gained its first gold for a red wine.
Azerbaijan – a new source for red wines?
Azerbaijan showed its potential for red wines with three silver medals and a bronze. All the wines came from Aspi Aqro, a company formed in the Savalan Valley in 2007. The winemaking team includes Italian oenologists Daniel D'Andrea and Eliza Vagnoni.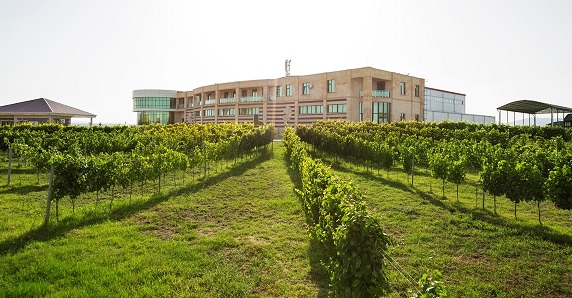 The silver successes were:
Savalan Limited Release 2015 – a blend of Alicante Bouschet, Grenache and Syrah
Savalan Petit Verdot Reserve 2016 – a varietal that scored 92 points
Syrah Reserve 2015 – a varietal that scored 93 points
The bronze was awarded to Aspi Aqro's Cabernet Sauvignon Ripassato Reserve 2014.
Thailand for whites?
Thailand's Siam Winery, based an hour south of Bangkok, won three bronze medals. Two were for white wines from grapes grown in tropical conditions at the company's Monsoon Valley Vineyard in the Hua Hin Hills (about two and a half hours south of Bangkok).
Siam Winery was founded in 1986 by Chalerm Yoovidhya, the Thai billionaire co-owner of Red Bull and Thailand's Ferrari distributor, Cavallino Motors. The winery produces more than 80m litres a year.
Its bronze beauties are:
Monsoon Valley Colombard 2019
Monsoon Valley Signature White 2019 (Chenin Blanc)
Monsoon Valley Cuvee De Siam Rouge 2015 (95% Shiraz with a touch of Sangiovese) 

England for reds?
England has established itself as a source of top-quality sparkling wines, but its still wines have lagged behind. This year, however, the IWC judges awarded their first gold medal to an English red – the Red Miller 2018 from Hush Heath.
The £40 limited-edition red – only 5,000 bottles produced – is made from "exceptionally ripe" Pinot Meunier from a single plot. Owen Elias, consultant winemaker, said: "Pinot Meunier is rarely seen as a still red anywhere in the world. Here we have a delicate and aromatic wine which will be extremely interesting as it develops over the next two years."
Harvested on October 19 last year, the grapes underwent three days' fermentation on skins. The wine also benefitted from brief exposure to French and American oak, minimal filtration and no fining.
Another wine from Hush Heath's Winemakers' Collection, This Septered Isle 2018, is a still white made from the seven permitted grape varieties used in Champagne. Apart from the Pinot Gris, the other six are all grown at Hush Heath – Chardonnay, Pinot Blanc, Petit Meslier, Arbanne and Pinot Meunier. Created by Owen's son, Fergus, the assistant winemaker, it gained a bronze medal.
'I was inspired after tasting a sparkling base wine'
Fergus said: "I was inspired after tasting a sparkling base wine we made in 2014 with six of the Champagne grape varieties from the estate. It had fantastic complexity, and real still wine potential. But it was not until the exceptional 2018 harvest, and the unearthing of a small local parcel of Pinot Gris, that This Septered Isle was born."
Two other English producers were awarded silver medals for reds – Bolney Estate for its Pinot Noir 2018 and Simpsons Wine Estate for its Rabbit Hole Pinot Noir 2018. Simpsons also collected a silver (and 92 points) for a still white made from Pinot Meunier.
Austria for Pinot Blanc?
Austria continues to impress with its white wines.
The country collected 8 golds. Five, as might be expected, were for Grüner Veltliners (Leo Hillinger, Reinhard Waldschütz, Atzberg,
Weingut Birgit Eichinger
, and Petra Unger), and two for Rieslings (Weingut Allram and FJ Gritsch). Leo Hillinger also won a gold for its Pinot Blanc Leithaberg 2017.
New Zealand for Pinot Gris?
Among New Zealand's impressive haul of 14 golds were two for Pinot Gris (Tohu Awatere Valley Pinot Gris 2019 and Nevis Bluff Pinot Gris 2017).
Belgium for Cabernet?
Belgian wine producer Dierickx André gained a silver with a Cabernet Dorsa. Cabernet Dorsa is an earlier ripening crossing of Cabernet Sauvignon and Dornfelder.
Italy for Petite Arvine?
Italian wines were awarded 5 golds, including one for a Petite Arvine from the Valle d'Aosta, in the foothills of Mont Blanc. The producer is La Source di Celi Stefano.
Italy's other golden grapes are:
Garganega (Inama Azienda Agricola's Vigneti di Foscarino 2017)
Pecorino (Velenosi Vini' sVilla Angela Offida Pecorino 2018)
Nebbiolo (Villadoria's Barolo Lazzarito 2015 and Barolo del Comune di Serralunga d'Alba 2015)
Other gold-standard grapes
Turkey's Doluca Bagcilik Ve Sarapcilik was awarded two gold medals for Boğazkere–Öküzgözü blends: Kav Boğazkere-Öküzgözü 2017 and Theodora Öküzgözü-Boğazkere 2017.
Croatia's Iločki Podrumi showed the potential of Central Europe's workhorse white variety, Graševina, with its Graševina Vrhunsko Vino 2018 scoring 95 points.
Uruguay's Bodega Garzón gained a gold with its Single Vineyard Tannat 2017.
Japan's Morita Koshu Winery took a gold with its Chanmoris Koshu Sur-Lie 2018.
North Macedonia's Stobi Winery was awarded the top medal for its Veritas 2016, made from Vranec (Vranac).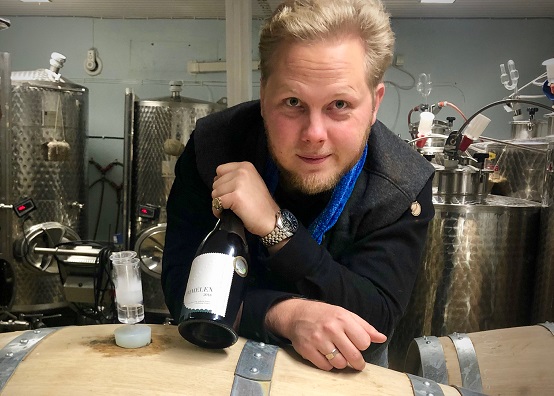 Sweden for wine?
Any
Canopy
readers wanting to find good examples of wines made from disease-resistant hybrid Solaris after
last month's article
on the variety should check out Sweden's Kullabergs Vingård. It's the dominant grape in the company's bronze-winning white blends Immelen 2018 (due to be officially released on December 6) and Lyckeri Assemblage 2018.
Kullabergs has 14ha (after planting another 4ha in May) and grows white varieties such as Souvignier Gris, Donauriesling, Muscaris, Auxerrois, Johannites and Solaris, and reds such as Pinot Nova, Cabernet Noir, Rondo, Regent and Spätburgunder. In addition, the company has one test field with 21 unique varieties.
"High-resistant varieties are the future, there is great potential," confirms Kullabergs' winemaker, K Felix G Åhrberg (
pictured above
).
Naturaliste born winner
Among the six highest scoring wines are a $15.99 Sauvignon Blanc from New Zealand and a Chardonnay from South Africa.
The six wines that scored 96/100 are:
Domaine Naturaliste Artus 2018 (a Chardonnay from Western Australia's Margaret River)
Domaine Naturaliste Rachis 2018 (a Margaret River Syrah)
Château de Pommard's Simone 2017 (a Pinot Noir from Burgundy)
William Fevre's Chablis Grand Cru Vaudésir Domaine 2017
Stoneleigh Wild Valley Wild Sauvignon Blanc 2019 from Marlborough, New Zealand
Bouchard-Finlayson Missionvale Chardonnay 2017 from South Africa's Walker Bay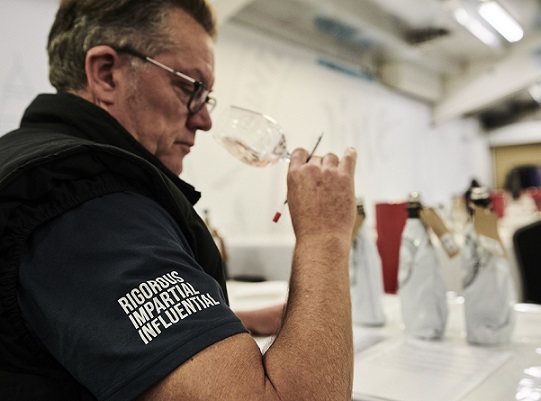 Tranche 2 is open for entries
Tranche 1 saw more than 200 of the world's top wine experts from 23 countries judging the wines over four days in London. Tranche 2 is now open for entries. For details, click
here
.