The International Wine Challenge, the world's most impartial and rigorously judged global wine competition, has named the top wines in its 2023 competition.
Thousands of wines from more than 40 countries were entered into the competition and blind-tasted by an international panel of experts last month, with awards going to more than 6,000 wines from across the world. Winemaking heavyweights such as France, Australia and Spain topped the medal table but there were plenty of surprises too, with the Netherlands claiming its first silver medal and Egypt and Denmark collecting their first bronze medals.
Success for Jura
France continues to be the most awarded country in each medal category with 70 gold, 321 silver and 446 bronze medals. For the first time in IWC history, the French White Trophy went to a Vin Jaune from the Jura region: Michel Tissot & Fils' Château-Chalon Vin Jaune 2015. For the past five years, this title has gone to a Burgundy producer. The Jura's Michel Tissot & Fils had further success with two silver medals and one commended.
Burgundy put on a stellar performance, taking home 152 medals for its still wines, 27 of which were gold, more than any other French region. Burgundy producer Edouard Delaunay claimed the International Pinot Noir Trophy for its Chambertin Grand Cru Rouge 2020, the eighth year in a row that France has won this accolade.
Of the 174 Champagnes that were awarded medals in this year's challenge, Rare Champagne held on to the prestigious Champagne Trophy for its Rare Millésime 2008 – the same wine that took this title last year.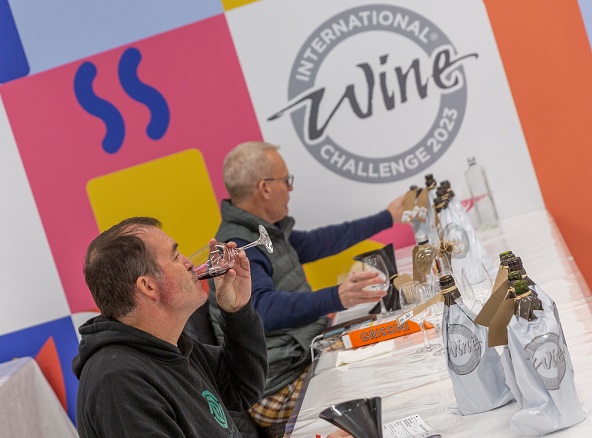 Jamie Goode (
above
), one of six IWC co-chairs, commented: "Champagne and Burgundy are internationally renowned as some of the best wine regions in the world and each year we see this quality reflected in the results. However, we have never seen such an impressive set of results from a Jura producer. Burgundy's smaller and less well-known neighbour is definitely one to watch."
Australian fortified triumphs
Australia came second only to France in the challenge with an impressive count of 62 golds, 250 silvers and 199 bronzes. For the first time in over a decade, Australia beat 20 other countries to claim the International Cabernet Sauvignon Trophy which went to Coonawarra's Paragon Wine Estates for its Riddoch The Pastoralist Coonawarra Cabernet Sauvignon 2021.
Australia also had significant success with its fortified wines. Despite only accounting for 2% of Australian wine sold globally, the nation has proven that its fortified wines can stand up on the world stage, racking up a total of 24 medals including 13 golds. Victoria's Morris Wines claimed six of these gold medals for its Muscat, Topaque and Tawny fortified wines.
"Australia has a long and distinguished history of making fortified wines, but production declined in the 1960s. It is great to see winemakers responding to the growing global demand for fortified wines and drawing on their winemaking heritage to produce some outstanding wines in this category," commented IWC co-chair Sam Caporn MW.
Rioja reigns in Spain
Coming in as the third most awarded country in this year's challenge, Spain received a total of 489 medals. Rioja was the country's top performing region, taking 163 of these as well as reclaiming the Spanish Red Trophy back from Ribera Del Duero, which has won it every year since 2018.

This prestigious title went to Bodegas Campillo for its Gran Reserva 2014 (
above
).
Galicia was recognised for the quality of its white wines with two gold medal wins for still white wines, more than any other Spanish region. These went to Agro De Bazán's Granbazán Limousin 2020 and Bodegas Altos De Torona for its Albanta Sobre Lias 2022 which also picked up the Spanish White Trophy.
Sherry had another great year, winning 29 of the country's 40 gold medals, with the Sherry Trophy awarded to Bodegas Fernando De Castilla for its Oloroso Singular.
Spain expert and IWC co-chair, Tim Atkin MW, commented: "The results from this year's competition highlight Spain's strong presence in the world of wine. Rioja's dominance in the medal table demonstrates its unmatched expertise in producing high quality wines. The continued success of Sherry wines is also a testament to the diversity and versatility of Spain's wine industry."
Austria claims two of the six international trophies

Austria's Weingut Schneeberger regained the International Sauvignon Blanc Trophy this year for its Sauvignon Blanc Kittenberg Südsteiermark 2021. It's the second time in three years that this Südsteiermark winery has produced the top Sauvignon Blanc in the competition. Austria also regained the International Riesling Trophy which went to acclaimed cooperative Winzer Krems for its Kremser Kreuzberg Riesling Kremstal Dac Reserve 2021, the wine that also won this year's Austrian White Trophy.
Sensational year for English wines
It was also a sensational year for England's sparkling wines – they came second only to France for gold medals in this category – but the country continues to burnish its reputation as a producer of world-class still wines, winning a total of 24 medals in this category. Medals were won by producers in 19 regions across England and Wales including as far north as Staffordshire and Shropshire but more than 65% of the medals were split between just four wine-producing regions:
Kent led the medal wins for English wines with 27, including two golds which were both awarded to Chapel Down. In addition to golds for its Kit's Coty Coeur De Cuvée 2016 and its Grand Reserve 2018, the Kent producer secured a further six silver or bronze medals. Other notable successes came for Gusbourne which was awarded a total of seven medals and Balfour Winery which took home six.
Sussex also demonstrated its sparkling wine prowess, with a total of 23 medals, three of which were gold. One of these golds went to Rathfinny Wine Estate for its Blanc de Blancs 2018, while it also took home a further three medals, making it the most awarded winery in Sussex. Busi Jacobsohn Wine Estate was also awarded a gold for its Blanc de Noirs 2018 while Wiston Estate claimed the third gold for its Blanc de Blancs 2018.
Hampshire's wines secured more gold medals than any other English region as well as the top trophy for English sparkling wine. Hattingley Valley's Blanc de Blancs 2014 was awarded both the English Blanc de Blancs Sparkling Trophy and the English Sparkling Trophy. Gold medals also want to The Grange, Raimes and Candover Valley Wines whose Candover Brook Brut took the English Classic Blend Sparkling Trophy.
Cornwall bagged a total of 12 medals, all of which were shared between just two producers. Camel Valley produced an exceptional set of results, taking home a gold medal for its Annie's Anniversary Brut 2018 in addition to four silver medals, five bronze and one commended. Camel Valley was recognised not only for its still and sparkling whites and rosés but also for its Sparkling Red 2021 which was one of the highest performing sparkling reds in the challenge. Trevibban Mill was the only other Cornish producer to gain a coveted medal.
Elsewhere in the UK, the English White Trophy was awarded to Lyme Bay Winery for its Martin's Lane Chardonnay 2020 while Devon's Lympstone Manor Estate took home the English Red Trophy for its Triassic Pinot Noir 2020.
Helen McGinn, IWC co-chair, commented: "England, particularly regions in the south, has been internationally recognised for the production of world-class sparkling wines for some time now. In recent years, England's still wines have also come on leaps and bounds and it is great to see both reds and whites recognised with trophies in this year's challenge."
Up-and-coming challengers make their mark
This year's challenge produced some revelatory results across Europe, Asia, South America and Africa.
Romania had its first taste of gold medal success, with a sweet wine Jidvei Eiswein from Transylvania producer Sc Jidvei. In addition, the nation won a further five bronze medals and 17 commendeds.
The Netherlands received its first silver medal this year which was awarded to a sparkling Riesling produced by Domein Aldenborg: the Eyra Riesling Millésime Brut Nature 2015. This was a breakthrough for the country which has never received a medal for its sparkling wines before. Other countries emerging on the world stage include India, Ukraine and Peru which doubled its medal count compared to last year.
Peter McCombie MW, IWC co-chair, explained: "An International Wine Challenge medal gives consumers the confidence to be adventurous and try wines from countries that they may not have previously associated with top quality wine. It takes the risk out of buying wine from up-and-coming wine-producing nations such as India, Demark and the Netherlands, which have all been recognised with medals in this year's challenge."
The full list of medal and trophy winners can be viewed
here
.
The IWC Champion Wines for 2023 which are selected following a re-tasting by the IWC co-chairs of all the trophy-winning wines, will be revealed at the IWC 2023 Awards in London on Tuesday, July 4. The winemakers of the year will also be announced at the event.
Trophy results
Argentinian Cabernet Franc Trophy:
Bodegas Fabre Montmayou Reserva Cabernet Franc 2022
Mendoza Malbec Trophy, Argentinian Red Trophy, International Malbec Trophy:
Huentala Wines, Huentala Calizo Carmin Block 3 2020
Australian White Trophy:
Fermoy Reserve Chardonnay 2021
Australian Pinot Noir Trophy, Australian Red Trophy:
Tolpuddle Vineyard Pinot Noir 2021
Australian Cabernet Sauvignon Trophy, International Cabernet Sauvignon Trophy:
Paragon Wine Estates, Riddoch The Pastoralist Coonawarra Cabernet Sauvignon 2021
Eden Valley Shiraz Trophy, South Australian Shiraz Trophy, Australian Shiraz Trophy:
Brockenchack Wines, William Frederick Shiraz 2019
Barossa Shiraz Trophy:
Kellermeister, Wild Witch Shiraz 2021
Victoria Shiraz Trophy:
Mount Langi Ghiran Billi Billi Shiraz 2019
Topaque Trophy:
Morris Wines Cellar Reserve Grand Topaque NV
Rutherglen Muscat Trophy, Australian Fortified Trophy:
Morris Wines Old Premium Rare Muscat NV
Tawny Trophy:
Morris Wines Old Premium Rare Tawny NV
Austrian Riesling Trophy, Austrian White Trophy, International Riesling Trophy:
Winzer Krems, Kremser Kreuzberg Riesling Kremstal Dac Reserve 2021
Austrian Grüner Veltliner Trophy:
Rudolf Rabl, Ried Käferberg Grüner Veltliner "Alte Reben" 2021
Austrian Sauvignon Blanc Trophy, International Sauvignon Blanc Trophy:
Weingut Schneeberger, Sauvignon Blanc Kittenberg Südsteiermark 2021
Austrian Sweet White Trophy:
Hans Tschida Angerhof, Chardonnay Beerenauslese 2021
Canadian White Trophy:
Thirty Bench Wine Makers Small Lot Riesling Wild Cask 2020:
Chilean Cabernet Sauvignon Trophy:
Viña Undurraga, T.H. Cabernet Sauvignon Alto Maipo 2021
Chilean Carignan Trophy, Chilean Red Trophy:
Viña Undurraga, T.H. Carignan Maule 2021
Chilean Pinot Noir Trophy:
Viña Undurraga, Trama Pinot Noir 2021
Croatian White Trophy:
Belje Graševina 2006
English Classic Blend Sparkling Trophy:
Candover Valley Wines, Candover Brook Brut NV
English Blanc de Blancs Sparkling Trophy, English Sparkling Trophy:
Hattingley Valley Blanc de Blancs 2014
English White Trophy:
Lyme Bay Winery, Martin's Lane Chardonnay 2020
English Red Trophy:
Lympstone Manor Estate, Triassic Pinot Noir 2020
Non-Vintage Classic Blend Champagne Trophy:
Charles Heidsieck Brut Réserve NV
Vintage Classic Blend Champagne Trophy, Champagne Trophy:
Rare Champagne, Rare Millésime 2008
Non-Vintage Blanc de Blancs Champagne Trophy:
Champagne Henriot Cuve 38 NV
Vintage Blanc de Blancs Champagne Trophy:
Maison Mumm, G.H. Mumm RSRV Cuvée Lalou Grand Cru Brut 2008
Vintage Rosé Champagne Trophy:
Rare Champagne, Rare Rosé Millésime 2012
Non-Vintage Rosé Champagne Trophy:
Champagne Henriot Rosé NV
Aligoté Trophy:
Famille Carabello-Baum, Bourgogne Aligoté 2020
Meursault Trophy, Burgundy White Trophy:
Maison Albert Bichot, Meursault 1er Les Charmes Cuvée Bahezre de Lanlay Hospices de Beaune 2021
Puligny Montrachet Trophy:
Edouard Delaunay Puligny-Montrachet 1er Cru Les Referts Blanc 2020
Jura White Trophy, French White Trophy:
Michel Tissot & Fils, Château-Chalon Vin Jaune 2015
Beaune Red Trophy:
Domaine Du Château De Meursault, Beaune Grèves 1er Cru Les Trois Journaux 2021
Corton Red Trophy:
Domaine Du Château De Meursault, Corton Les Maréchaudes Grand Cru 2021
La Clape Red Trophy, Languedoc Red Trophy:
Château Rouquette Sur Mer, Château Rouquette sur Mer Cuvée L'Esprit Terroir 2021
Nuits St Georges Red Trophy:
Edouard Delaunay, Nuits-Saint-Georges 1er Cru Les Saint-Georges rouge 2020
Pommard Trophy:
Edouard Delaunay, Pommard 1er Cru Les Chaponnières Rouge 2020
Chambertin Trophy, Burgundy Red Trophy, French Red Trophy, International Pinot Noir Trophy:
Edouard Delaunay, Chambertin Grand Cru Rouge 2020
Rhône Red Trophy:
Domaine De Galuval, Les Collines 2020
Corbieres Red Trophy:
Domaines Bonfils Château Vaugelas "V" 2021
Georgian White Trophy:
Jsc Corporation Kindzmarauli, Rkatsiteli Qvevri 2019
Georgian Red Trophy:
Wine Company Shumi, Bio Saperavi Iberiuli 2020
German White Trophy:
Weingut Hans Wirsching, Iphöfer Julius-Echter-Berg Riesling 2021
German Sweet Trophy:
Weingut Hans Wirsching, Iphöfer Julius-Echter-Berg Riesling Trockenbeerenauslese 2021
Hungarian White Trophy:
Tóth Borbirtok Kódex Furmint 2021
Italian Sparkling Trophy:
Villa Franciacorta Emozione Brut 2019
Verdicchio Trophy, Italian White Trophy:
Conte Leopardi Castelverde 2022
Pecorino Trophy:
Tenuta Cocci Grifoni, Offida Pecorino Colle Vecchio 2022
Biancame Trophy:
Azienda Guerrieri Guerriero del Mare Marche Bianco 2021
Italian Sweet Trophy:
Tenuta Di Capezzana Vinsanto di Carmignano Capezzana Riserva 2015
Hawke's Bay Chardonnay Trophy:
Church Road 1 Chardonnay 2021
New Zealand Sauvignon Blanc Trophy:
Yealands Estate Single Block S1 Sauvignon Blanc 2022
Canterbury Chardonnay Trophy, New Zealand Chardonnay Trophy, New Zealand White Trophy:
Greystone Chardonnay 2021
New Zealand Viognier Trophy:
Passage Rock Wines Reserve Viognier 2022
Marlborough Chardonnay Trophy:
Lawson's Dry Hills Reserve Chardonnay 2021
Gibbston Pinot Noir Trophy, Otago Pinot Noir Trophy, New Zealand Pinot Noir Trophy:
Coal Pit Tiwha Pinot Noir 2019
Wairarapa Pinot Noir Trophy:
Matahiwi Vineyards, Holly South Series Pinot Noir 2021
Alexandra Pinot Noir Trophy:
McArthur Ridge Southern Tor 2021
Hawke's Bay Malbec Trophy:
Church Road 1 Malbec 2020
New Zealand Syrah Trophy, New Zealand Red Trophy, International Syrah Trophy:
Giesen Group, Giesen Single Vineyard Clayvin Syrah 2021
Hawke's Bay Red Blend Trophy:
Passage Rock Wines, Magnus 2019
Portuguese White Trophy:
Azevedo Loureiro e Alvarinho Vinho Verde 2022
Bairrada Trophy:
Manuel Dos Santos Campolargo Herdeiros, Rol De Coisas Antigas 2018
Douro Red Trophy, Portuguese Red Trophy:
Casa Ferreirinha Callabriga Red 2020
Lisboa Red Trophy:
Quinta Do Gradil Tannat 2021
Verdelho Trophy, Madeira Trophy:
Pereira D'Oliveira Verdelho 1989
Tinta Negra Trophy:
Pereira D'Oliveira Tinta Negra Doce 1929
Vintage Port Trophy, Port Trophy:
MWC, MDE Porto Vintage 2020
Colheita Trophy Barros:
Barros Colheita Tawny 2006
10 Year Old Tawny Port Trophy:
Porto Ferreira Dona Antónia Tawny 10 Years Old NV
30 Year Old Tawny Port Trophy, Tawny Port Trophy:
Porto Ferreira Dona Antónia Tawny 30 Years Old NV
40 Year Old Tawny Port Trophy:
Aldi Fletcher's 40 Year Old Tawny Port NV
South African White Trophy:
Paul Cluver Seven Flags Chardonnay 2021
South African Pinot Noir Trophy:
La Vierge Wines Apogée Pinot Noir 2020
South African Shiraz Trophy, South African Red Trophy:
De Grendel Wines, Op Die Berg Shiraz 2021
Rias Baixais Trophy, Spanish White Trophy:
Bodegas Altos De Torona, Albanta Sobre Lias 2022
Rueda Trophy:
Val de Vid Verdejo 2022
Mazuelo Blend Trophy:
Bodegas Baigorri, Belus 2018
Gran Reserva Rioja Trophy, Spanish Red Trophy:
Bodegas Campillo Gran Reserva 2014
Pedro Ximénez Trophy:
Emilio Lustau Pedro Ximenez Murillo NV
Oloroso Trophy, Sherry Trophy:
Bodegas Fernando De Castilla, Oloroso Singular NV
Cream Sherry Trophy:
González Byass Matusalem VORS 30 YO NV
Amontillado Trophy:
Bodegas Osborne, Amontillado en Rama La Honda NV
Palo Cortado Trophy
: Valdespino Palo Cortado Viejo CP VOS 20 YO NV
Kalecik Karasi Trophy:
Kuzubag Tarim San. Ve Tic Kuzubag Kalecik Karasi 2021
Turkish Syrah Trophy, Turkish Red Trophy:
Asmadan Tarım Urunleri Ve Bagcılık San Ve Tic, Asmadan Kor Reserve Syrah 2021