If this Sunday's Emilia-Romagna Grand Prix at Imola hadn't been called off after the region was hit by severe floods, we would have seen a new Italian sparkling wine on the podium.
Ferrari Trento, the 'official toast' of F1 and Italy's leading brand for luxury sparkling wines, launched three new dedicated bottles in its Ferrari F1 Limited Edition range last month. They were due to make their debut on the podium at the Imola racetrack this weekend and in the most exclusive hospitality areas at the historic venue.
The Trentodoc non-vintage blanc de blancs had a special label for the race at Imola, and later in the year at Zandvoort and Las Vegas (
below
).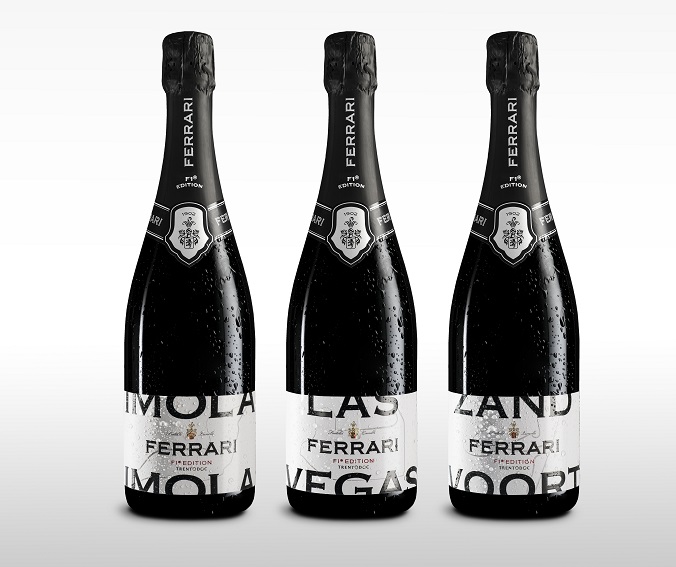 These three events were selected because they have extra meaning this year.
Imola – also known as the Autodromo Enzo and Dino Ferrari – is celebrating its 70th anniversary and the dedicated bottle showcases the circuit there. The design of the bottle is consistent with the rest of the collection, with the label reproducing the stylised design of the circuit and the name, echoed on the top and bottom edges, in an eye-catching play on lettering.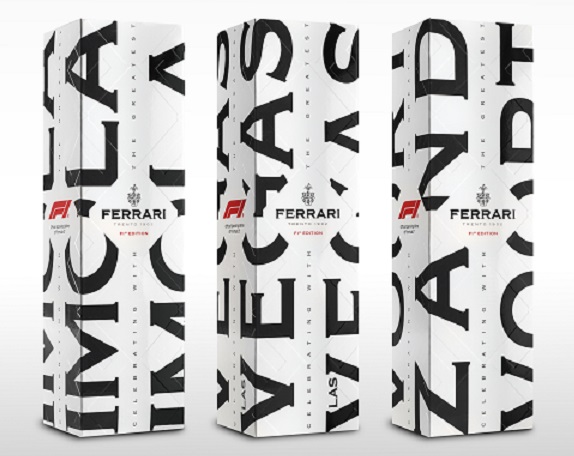 This is also reproduced on the packaging (
above
).
Ferrari Trento, part of the Lunelli Group, has also created two dedicated bottles with a similar design of the race circuits for both Zandvoort, which will host the Dutch Grand Prix on August 27, and Las Vegas, which will stage its race on an all-new circuit on November 18. Zandvoort is the home circuit of reigning world champion Max Verstappen.
The sparkling wine inside the bottles is a traditional-method blanc de blancs, made from selected Chardonnay grapes grown sustainably and handpicked from mountainside vineyards in Trentino, in northern Italy. The wine is matured on lees in bottles for at least 36 months.
CEO and president of Ferrari Trento, Matteo Lunelli (
below, left
), says: "Ferrari Trento has been the official toast of Formula 1 for two years now, and following these successful years, we very much look forward to the third season. 2023 is set to be a big one, and we are glad to celebrate it presenting the Imola, Zandvoort and Las Vegas F1 dedicated editions of our Trentodoc sparkling wine."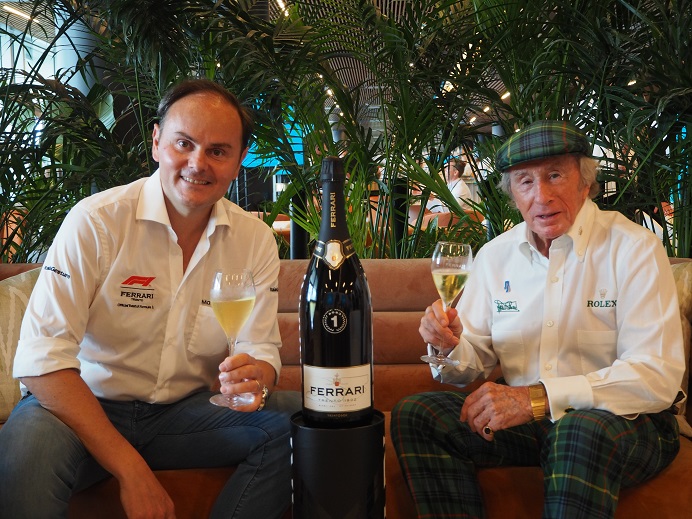 Helping Race Against Dementia
Ferrari Trento is to auction a selection of official signed bottles in aid of Race Against Dementia, a charity supported by F1.
The charity was established by three-time F1 world champion Sir Jackie Stewart OBE (
above, right
) after his wife was diagnosed with frontotemporal dementia. Race Against Dementia supports early career researchers in many different aspects of research.
There are 18 Ferrari Trento blanc de blancs bottles available for auction in 2023, signed by the top three drivers from each race after the podium celebrations.
You can make your bids now (
here on the F1 Authentics website
).
The bids will close shortly after each race weekend.
Stefano Domenicali, president and CEO of F1, says: "It is wonderful to see three members of the Formula 1 family come together to raise money for such an important cause in Race Against Dementia. We are passionate about finding a cure for a disease that is taking so many lives around the world, and are pleased to see that Ferrari Trento and F1 Authentics also share that drive."
Success at IWC
The blanc de blancs Ferrari Riserva Perlé 2017 was awarded a silver medal at IWC 2023 while the Ferrari Maximum Blanc de Blancs Brut NV was awarded a bronze medal.
Ferrari Perlé 2017 was kept on lees for 54 months while the non-vintage Maximum Blanc de Blancs stayed on lees for about 30 months.