Californian winery Grgich Hills Estate has released two wines to celebrate the 100th birthday of its founder, legendary Napa Valley winemaker Miljenko 'Mike' Grgich, on April 1.
Mike is the Croatian-born winemaker best known for crafting the 1973 Chateau Montelena Chardonnay that famously beat white Burgundies and took first place in the historic 'Judgement of Paris' blind tasting in 1976.
The two highly collectible Centennial Celebration wines are the 2020 Paris Tasting Commemorative Chardonnay and the 2019 Yountville Old Vine Cabernet Sauvignon. The Commemorative Chardonnay pays homage to the Steven Spurrier-organised tasting in 1976 which changed the world of wine forever. The Cabernet Sauvignon is made from grapes grown in one of Napa Valley's oldest Cabernet vineyards and celebrates Mike's touch with red wines.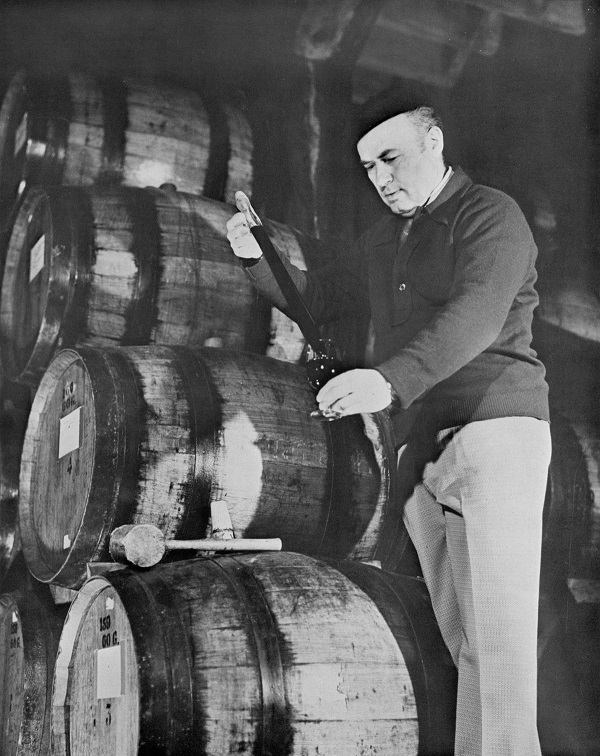 2020 Paris Tasting Commemorative Chardonnay
This is a rich, yet elegantly balanced wine from an extremely hot and dry vintage. The year produced exceptionally low yields but with excellent quality – grapes with great acid and freshness.
The organic grapes for this Chardonnay are primarily from the Grgich Hills Estate's oldest block, the Old Wente clone planted in 1989. Through a combination of clone, age, cool climate and regenerative farming, this single block in the chilly Carneros region of Napa Valley creates wonderfully rich flavours, balanced with crisp acidity.
This special Chardonnay has aromas of fresh lemon, yellow peach and pineapple with hints of apple, caramel and vanilla bean. The wine exhibits a lovely, soft texture that opens up to a beautiful array of citrus and stone fruit flavours followed by a vibrant acidity and subtle minerality leading to a deeply aromatic long finish.
Hand-picked at an average of 22.5˚Brix, the bunches are sorted by hand and go into the press without destemming.
The juice is fermented using indigenous yeasts.
The wine spends 15 months in French oak – 53% barriques (50% new) and 47% foudres.
Alc:
13.5%
TA:
6.4g/L
pH:
3.34
Production:
958 cases (12/750 ml)
2019 Yountville Old Vine Cabernet Sauvignon
Also rich and elegant, this wine comes from the wetter and cooler 2019 vintage.
The Cabernet Sauvignon vines at Yountville were planted in 1959. They are the Inglenook clone (also known as Niebaum Cabernet Sauvignon #29) on St George rootstock. More than a half century old, these vines have developed a root system that reaches deep into the subsoil.
Farmed using the principles of regenerative agriculture, the yields are low but the flavours are intense. The wine starts with complex aromas of brambly blackberry, rosehip, red currant, and blood orange followed by flavours of sweet cherry, blueberry, rosemary, and dry peat. The tannins are soft and round and velvety, leading to a long luscious finish.
The grapes were handpicked at an average of 25˚Brix, sorted and destemmed – but without crushing them.
The whole berries were fermented using indigenous yeasts.
Skin contact was 3-4 weeks.
The wine spent 20 months in French oak (50% new).
The Cabernet Sauvignon (86%) was blended with 8% Petit Verdot and 6% Cabernet Franc.
Alc:
14.5%
TA:
5.6 g/L
pH:
3.68
Production:
702 cases (12/750 ml)
The party continues
The 366-acre Grgich Hills Estate is also set to host a series of events to celebrate Mike's birthday, starting on the big day itself (April 1).
The birthday celebration will feature a multi-stream event accessible through the Grgich Hills official website. The centennial event will be hosted by master sommelier Andrea Robinson. Guests attending the physical event at the Grgich Hills Estate will enjoy live entertainment and delicious food designed to complement these exclusive wines and Andrea will engage with friends of Mike from around the US and Canada who will share their stories about him. Mike will join the celebration from his winter residence with his family, including daughter Violet Grgich (
pictured with him below
), president of Grgich Hills Estate.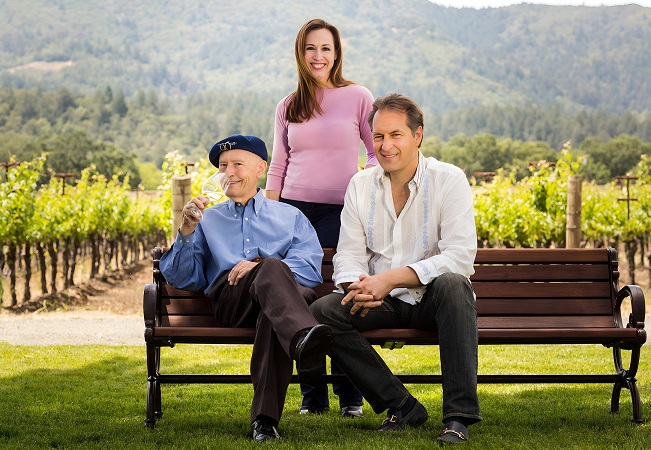 On May 19, 2023, Mike's close friends, colleagues, associates and select members of the media will celebrate 'A Glass Full of Miracles', an exclusive event where select wines that represent Mike's career in the wine industry will be featured. These include a selection of Grgich Hills Estate library wines, as well as those that he worked on while employed at other wineries, including Beaulieu Vineyard where he worked with Andre Tchelistcheff, his tenure at the Robert Mondavi Winery where he crafted the now famous Fume Blanc and 1969 award-winning Cabernet Sauvignon, and finally at Chateau Montelena where he created the wine that won the Judgement of Paris.
Many winemaking associates will be sharing their favourite personal stories about friendships with Mike and the wines they created with him. The following day, 'A Life Full of Miracles' celebration will feature Croatian music and dancers in traditional costume, entertainment, and food created by renowned Iron Chef Masaharu Morimoto. Approximately 400 invitation-only guests will be attending on May 20, 2023, on the open-air patio at The Ranch House at Grgich Hills Estate.
Mike has gained many friends since moving to California. Perhaps it's because he always followed his father's advice: "Every day do your best, learn something new, and make a friend."
The season of celebration concludes with Grgich Hills Estate's annual Wine Club Croatian Extravaganza on July 1. Members will celebrate 46 years of exceptional wines, the founding of Grgich Hills Estate, Mike's 100th birthday, his contributions to the art of winemaking and his Croatian roots.
'We shattered that myth'
Miljenko was born in a village in the Balkans, now Croatia, in 1923. Miljenko's US-bound journey from his homeland on a UN student visa via Germany and Canada was an ambitious one. Arriving in Napa Valley in 1958, Miljenko worked with a succession of the most influential wineries and winemakers in Napa Valley: Lee Stewart at Souverain Winery, Brother Timothy at Christian Brothers Cellars, André Tchelistcheff at Beaulieu Vineyards, and Robert Mondavi at Robert Mondavi Winery before becoming winemaker and limited partner at Château Montelena, where he crafted the now famous 1973 Chateau Montelena Chardonnay.
"For years, everybody in the world believed that only French soils could produce great wines," Miljenko recalls. "We shattered that myth. That was probably the most significant result of the Paris tasting. Our victory pumped new energy into the California wine industry, particularly in the Napa Valley, and it energised winemakers in many other parts of the world, such as Argentina and Chile. They realised that if we could do it, so could they."
Entertainment at the July 1 event will include Croatian music and dancers in traditional costume as well as a special menu of Croatian delicacies paired with the Centennial wines.
Happy birthday, Mike. Živjeli!