A buzzard glides over the track leading to Roebuck Estates and disappears into the vines to feed on a worm. It's an encouraging sign. This bird of prey had all but vanished across the British Isles by the mid-20th century.
At a bend in the track, I can see the flock of Sussex sheep which mowed and fertilised the vineyards over the winter, from leaf-fall to budbreak.
The fences separating the track and vines are high – to deter the beautiful roe deer found in this part of West Sussex from gorging on buds during budbreak. This region is famous for its roe deer. The herd at nearby Petworth Park, where Henry VIII used to hunt, now totals about 700.
The magnificent bucks are the common denominator in this dispersed estate, acquired in stages since 2013. Hence the brand name and the hand-drawn buck deer on the labels.
I'm greeted at the end of the track by Roebuck's James Mead (general manager), Danielle Whitehead (marketing and communications manager) and Jake Wicks (vineyard manager). They run the estate for the owners, entrepreneurs Michael Smith and John Ball.
They tell me the deer are not the biggest pest problem here – apart from at budbreak. As the Chardonnay, Pinot Noir and Pinot Meunier grapes are destined for sparkling wines, the acidity is too high for the deer's palates. Small birds are a bigger problem. This is where a resident buzzard comes in handy. It helps to keep the starlings, thrushes, tits, blackbirds and other grape-eaters away from the site.
To keep the buzzard and other birds of prey, such as kites, happy here, Roebuck's vineyard team makes a special effort to be "kind to the environment".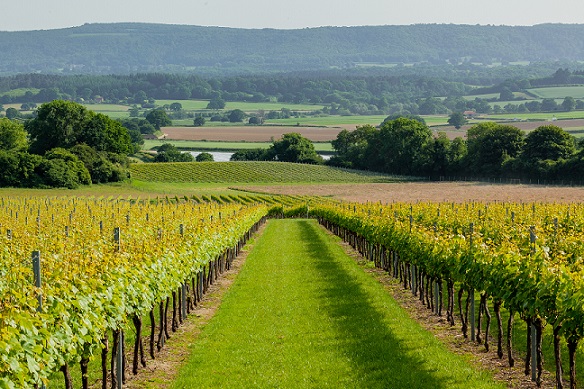 Roebuck Estates, one of the founding members of the Sustainable Wines of Great Britain (SWGB) certification scheme, sees the benefits of a more sustainable approach. But it's not easy with England's unsettled, temperate climate. Our tour of the main vineyard site (
above
), the 11.3ha Upperton Vineyard near the village of Tillingham, is cut short because it's pouring hard with rain. It's the start of summer but there are yellow weather warnings for severe flooding and a month's worth of rain is on its way today.
On our way to the offices, tasting room and tractor shed, we pass the only non-Champenoise vines in the whole 48ha estate: five rows of Pinot Précoce.
But these five rows play a crucial role in the wine I've come to discuss with the Roebuck team. Roebuck Estates' debut sparkling rosé, its Rosé de Noirs 2016 – a gold-medal winner at IWC 2021 and winner of the English Vintage Sparkling Rosé Trophy – picked up another trophy last month, at the IWC Awards in London. James collected the James Rogers Trophy for the best wine in its first year of production from IWC co-chair Oz Clarke (
below
).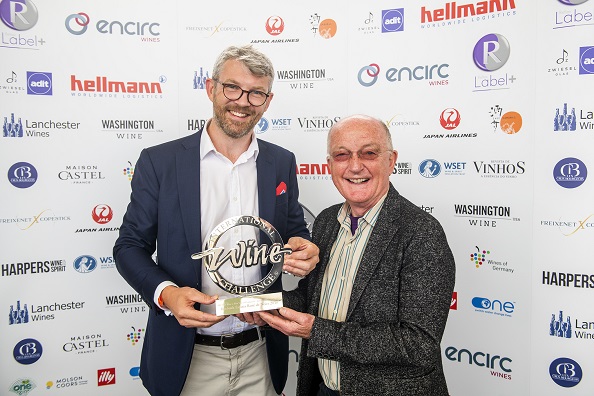 The Précoce is what gives the wine its lovely pale pink colour and enhances its red fruit aromas and rich red cherry flavours.
The handpicked grapes from these five rows are fermented in stainless steel to keep the character "very neutral" with pumpovers to extract "as much colour from the skins as possible, but we try to minimise the tannins," according to James.
A splash of this still red wine is added with the dosage of 6g/L of sugar to a blanc de noir at disgorgement. "The character of that Pinot Précoce is just perfect for a rosé and we feel that, contrary to the saignée method, we have much more control over the finished product," James adds.
Elaborating on the character added by the Précoce, he says: "We think the character of the Précoce is very Gamay-esque – lots of sweet red fruits, a little bit bubble-gummy, quite playful, with a nice seam of acidity which partners very well with the (Pinot Noir) base wine, and almost zero tannins."

The Pinot Noir for this £40 wine comes from Roebuck's prize single vineyard, its 6ha (15-acre) Roman Villa vineyard to the south-east of Petworth. It's a special site, nestled near the bottom of a valley and overlooking the Bignor Roman Villa museum. Here, budburst is later than other sites but it's always the first to ripen.
Jake explains why this former Nyetimber vineyard, planted exclusively with two Pinot Noir clones in 2007, is so special: "Disease pressure is very low there. It's probably our windiest site and it really blows through the canopy. The vines aren't as vigorous as here (Upperton), so they are quite a slight, delicate vine in comparison to the big, bulky ones we have here. So, the yield is lower than here and it ripens the fruit quite easily. It's the first one we pick."
James adds: "For me, it's that interplay between the bigger, juicier bunches from the Champenoise clones and the smaller Burgundian bunches which bring a real kind of structure to the juice on pressing while the bigger bunches bring a bit more elegance."
Although the Roman Villa vineyard's loam/clay-rich soil is planted with equal amounts of Burgundian and Champenoise clones, the smaller Burgundian bunches mean there's more juice from the Champenoise clones in the final wine. 
The handpicked fruit is whole-bunch pressed, with most going into stainless steel for a cool fermentation using Champagne yeasts. But about 5% is fermented in Burgundian oak barrels of three to four years in age.
'Greater textural richness'
"The fermentation in barrel, for us, is focused on achieving greater textural richness as opposed to giving it oaky character," James explains.
Winemaker Emma Rice of Hattingley Valley in Hampshire puts a portion through MLF. "If we think there's a nice red fruit character and if we think the acidity is in balance with the wine, then we'll generally not send it off for malo. I guess, as a rule of thumb, about 50% of our juice is put through malo, which just softens the acidity and brings the wine together," James says.
When they sit down to consider the blends for all their wines the following spring, they may have up to 80 different components to consider. Different sites, soils, clones, rootstocks and vinifications.
Although they have a good idea of where the grapes from each site are headed, the final decision is based purely on taste. "Our rosé won't always necessarily be 100% Pinot Noir from Roman Villa, it might include Pinot Meunier or Chardonnay," James states. "We're pretty openminded with our goal being to produce the very best wines we can and having a continuity of those wines year in, year out. So, we do try to look for consistency in terms of the profiles albeit allowing the characteristics of the growing season and the vintage to shine through."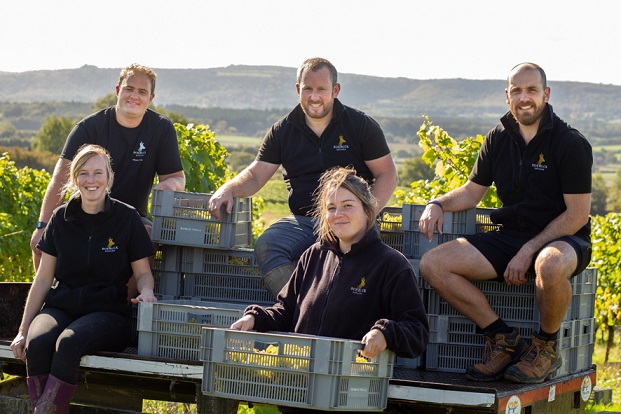 So far, Roebuck's wines have all been vintage sparkling wines. James says: "I love the fact that we've got a different story to tell every year when the new vintage comes out. I think, for us, that's one of the differentiating factors between us and some of the really big growers in the UK and also some of the big growers over the Channel as well who are trying to achieve absolute consistency from one year to the next. I quite like the fact that every wine tells its own story and I can jabber on and have something different to talk about each year. I think we may well produce a non-vintage wine at some stage but, at the moment, all our wines have a consistency of character to them."
They do have some wines in reserve at Hattingley Valley, "but that's more to do with adding complexity and richness to the blends".
After blending, the wine receives a minimum of three years' lees ageing in bottle before disgorgement.
As we taste Roebuck's main wine, the Classic Cuvée, in a marquee set up outside the offices and tasting room, James explains why they specialise in sparkling wines: "We know we can grow fruit that's perfect for sparkling wine year in, year out. There will be years when we have torrential rains all summer, but we can still achieve a crop whereas we don't have that same confidence with the grape varieties that we have that we can achieve brilliant still wines year in, year out.
"The climate in the UK, we feel, is perfect for sparkling wine. The levels of acidity and sugars that we achieve in our fruit at harvest are best suited to sparkling wine and all our vineyards have been planted with the intention of producing sparkling wine. The varieties and the clones and the rootstocks have been chosen to produce fruit which has naturally higher acidity and throws good levels of sugar, so we're committed to being a sparkling wine producer and we also have huge amounts of confidence that we can rival the very best sparkling wines in the world and that's our absolute aim.
"I wouldn't ever write off producing still wines but it's certainly not in our plans anytime soon."
Sustainable practices
With the rain drumming on the marquee roof, it's hard to hear everything James and Jake say. I point out cool, wet summers may be fine for sparkling wines but they are far from ideal for sustainable viticulture.
Jake (
pictured centre, back above
) agrees, but says they use the Sectormentor app and weather stations to model for powdery and downy mildew on a block-by-block, row-by-row basis, "so we don't spray chemicals when we don't need to".
This approach enabled them to decrease chemical usage by 30% last year.
The sheep, borrowed from a neighbour, are also helping. Jake explains: "They do such a fantastic job at the start of the season, your under-vine area is so clean, so you're starting off in a good place. You need to use minimal herbicides and minimal passes with under-vine cultivators."
They are now down to one herbicide application a year (pre-budburst) and, after that, it's under-vine cultivation and spot-weeding with a knapsack when required.
With their packaging, they are also trying to be as sustainable as possible. They use Absolute Greenline neck foils, which are produced from plant-based polyethylene derived from sugar cane, water-based inks on their labels and fully recyclable wine boxes.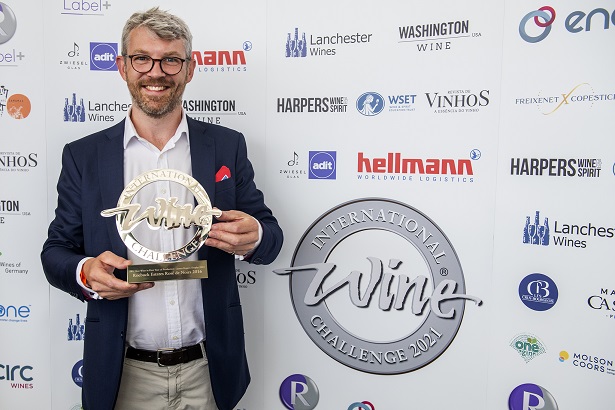 As we finally get around to unpacking the award-winning Rosé de Noirs 2016, James reveals: "Our rosé isn't a wine that we make every year, we tend to look for the riper years where there's more of a pretty red berry character which is exactly what we are trying to bring to our rosé. We want it to be a little more playful, to show that sweet red fruit character with various petal touches as opposed to our blanc de noir which is much richer, more structured, more serious in style."
He says they are "still playing around" with the 2017 wines, but James certainly expects to produce a sparkling rosé from 2018, 2019 and 2020. He says last year's fruit was "spectacular". "The wines will be outrageously good," he says.
The 2016 Rosé de Noirs will do me for now, as I sit back, relax, and enjoy the summer fruit flavours while watching puddles forming at the feet of the marquee poles.