The IWC 2017 Champion wines and Winemakers of the Year announced!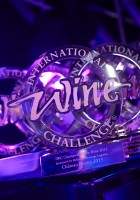 The winners of the highly anticipated IWC 2017 Winemaker of the Year and Champion Trophy awards have been announced.

To view a complete list of our Champion Trophy and Winemaker of the Year winners click here.

You can also search the list of all medal and trophy winning wines here.

Thank you to everyone who entered the IWC 2017. The IWC 2018 Tranche 1 will open in August. If you want to be kept up-to-date with the latest competition news and do not already have an IWC account, please register your company here.

For results of the IWC 2017 Merchant Awards UK, visit the dedicated website.

You can vew the images from our 2017 Awards dinner here.

You can see photos of the IWC Argentinian roadshow with Tim Atkin MW 9th August 2017 here.


This is a numerical code, unique to the company who entered the wines into the IWC. It will be 6 digit code starting with 44****. Searching using the Customer ID will find the all award winning wines for this entrant. If you cannot recall your Customer ID please email iwc@wrbm.com or login to your account where you can also review your results or get your ID
If you were a judge at the IWC and you want to check up on a wine you tasted, please type in the Wine Code from your tasting notes to obtain the details of the wine.
Our Videos