IWC 2013 Trophy and Great Value results are online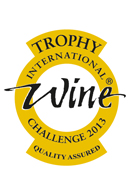 Discover who won the highly-anticipated Trophy medals and Great Value awards or see our press releases

To view your results, print a temporary certificate and download medal artwork log into your account, here's how it works:
Log into your account here.
In your account click on the 'Results and Certificates' tab, your results will be listed and you can immediately print your temporary certificates.
Click on 'Medals' to download artwork of your medals.
This is a numerical code, unique to the company who entered the wines into the IWC. It will be 6 digit code starting with 44****. Searching using the Customer ID will find the all award winning wines for this entrant. If you cannot recall your Customer ID please email iwc@wrbm.com or login to your account where you can also review your results or get your ID
If you were a judge at the IWC and you want to check up on a wine you tasted, please type in the Wine Code from your tasting notes to obtain the details of the wine.