About the Challenge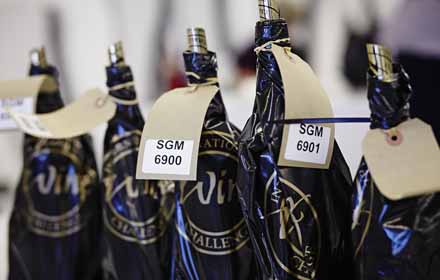 The International Wine Challenge (IWC) owned by William Reed Business Media is now in its 33rd year. The IWC is accepted as the world's finest and most meticulously judged wine competition which assesses every wine blind and judges each for its faithfulness to style, region and vintage. Throughout the rigorous judging processes, each medal-winning wine is tasted on three separate occasions by at least 10 different judges and awards include medals (Trophy, Gold, Silver, Bronze) and Commended and Great Value awards.

IWC 2016 Calendar

The IWC 2016 is now closed for entries. IWC 2017 will open in August.

Tranche 2
Open for entries: 3 December '15

Closing date for paper entries: 11 February '16

Closing date for online entries:

3 March '16

Delivery deadline for samples using the IWC shipping deal:

3 March '16

Delivery deadline for samples shipping privately: 7-29 March '16

Judging: 12-22 April '16

Medals announced 11 May '16
Tranche 1/Tranche 2
Trophies announced: 16 May '16

Awards Dinner: 7 July '16
Entry Fee
Paper entry

CLOSED

Entry into the Discovery Tasting costs £52 per wine plus VAT* in addition to online or paper entry fee.

International samples shipped using our approved shipping partner is an additional £45 plus VAT*

International samples shipped using our approved shipping partner for entries that include the Discovery Tasting (where 2 extra samples are required) is an additional £49.10 plus VAT*
*UK only. European companies with a valid VAT registration number do not have to pay UK VAT. Countries outside the EU do not pay UK VAT.
An overview of the IWC process
Tranche 1/Tranche 2
The IWC now has two separate tastings to accommodate the different production and sales schedules across the industry. Tranche 1 wines will be tasted in November and Tranche 2 wines will be tasted in April. The judging process remains the same with wines tasted in the context of style, country and region.
As a producer you now have the opportunity to decide which Tranche to enter. Please be aware that you can only enter a wine of a particular vintage once, in either Tranche 1 or Tranche 2. However, different vintages of a specific wine may be entered in the same IWC year.
There will be two medal release dates with Tranche 1 results announced in December and Tranche 2 in May. Wines that have won a Gold medal in Tranche 1 will be held in temperature-controlled storage until April. They will then be flighted with Gold medal wines from Tranche 2 for the Trophy tasting in April.
The remainder of the IWC schedule will be the same as previous years. You can see a summary of key dates for the IWC 2015 above.
Now let's have a look at what happens to your wines after you've entered the Challenge. Please note that the process is the same for both Tranches. 
Arrival
Wines from the depot are checked, given a unique code, repackaged and sent to the tasting venue in preparation for the judging.
Sorting and Photographing
On arrival wines are unloaded on to shelves in a temperature controlled storage facility. Wines are organised by style then country so that they are easy to locate. At this stage wines are also photographed for our website and App.
Picking and Flighting
Wines are picked from the shelves and put into 'tasting flights' – a group of wines with a similar style and from the same country and region. All flights are then put into blind tasting bags and tagged with their unique identifier to keep their true identity concealed. The wines are now ready for judging.
Round One
Round one of the judging commences. Wines are either marked as 'out', given a Commended award or progress to the next round. The IWC Chairmen then re-taste all 'outs' and 'commended' wines to confirm the mark. If the IWC Chairmen believe the wine is eligible it may be re-entered into round two to give it another chance.
Round Two
Round two of the judging begins. Wines are marked as 'out', given a Commended award or awarded Gold, Silver or Bronze medals. All wines are re-tasted by the IWC Chairmen to verify the results.
Trophy Tasting
Wines awarded Gold medals in both Tranche 1 and Tranche 2 progress to the Trophy round. The results are then combined and Tranche 1 and Tranche 2 wines put into new 'flights' for more blind tasting. Gold and Silver medal-winning wines that fall into the Great Value category are also tasted at this time. Regional and national Trophies and Great Value medals are awarded. All Trophy winning wines are re-tasted by the IWC Chairmen who then decide which wines should be awarded the Champion Trophies.
Recycling
Once the judging has ceased all bottles, left over wine, packaging and corks all get recycled. In 2014 the IWC recycled 9 cubic metres of Wine and 55 cubic metres of polystyrene was transformed into insulation for houses.

Enter the IWC