IWC at Three Wine Men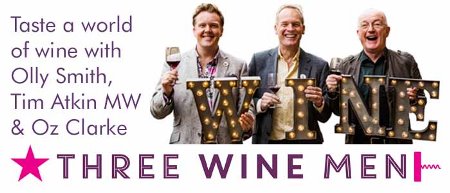 The IWC is joining forces with Three Wine Men tastings across the UK in 2016.
This is a fantastic opportunity for consumers to taste a selection of IWC 2016 award winning wines from around the world, all available to buy in-store or online now.
We will be making an appearance at the Three Wine Men events below:
Christmas Tasting, Church House, London - 3-4 December 2016
More information about the Three Wine Men events and tickets are available here.
The full list of wines that will be on show at the London Christmas tasting are listed below.
Marks & Spencer Graham Beck The Rhona Blanc de Blancs 2010 - IWC 2016 Gold Winner
Greyfriars Vineyard Blanc de Blancs 2013 - IWC 2016 Commended Winner
Exton Park Vineyard Pinot Meunier Rosé NV - IWC 2016 Gold Winner
ASDA Prosecco Spumante Extra Dry NV - IWC 2016 Silver Winner
Benguela Cove Semillon Sauvignon Blanc 2015 - IWC 2016 Silver Winner
Penfolds Bin 311 Chardonnay 2014 - IWC 2016 Gold Winner
Baron de Ley Wine Atlas Cigales 2012 - IWC 2016 Silver Winner
Beronia Reserva 2011 - IWC 2016 Trophy Winner and Great Value Champion
Definition Rioja Reserva 2009 - IWC 2016 Gold and Great Value Medal
Brunello di Montalcino "Orbitali" 2010 - IWC 2016 Gold Winner
Morrisons Signature Pedro Ximénez NV - IWC 2016 Gold Winner
Book tickets for Three Wine Men tastings here