Fox Run Vineyards in New York state is spreading sand under its picnic tables. In the winter it will spread the sand in its parking lots.
The Ranch at Laguna Beach golf resort in California is using the sand in bunkers.
The sand comes from crushed bottles. It's an eco-friendly alternative to sending tasting room empties away to be recycled.
Both The Ranch and Fox Run have purchased glass crushers from New Zealand manufacturer Expelco. The machine, which costs about $5,995, can crush bottles into five different sand grain sizes in about three to five seconds per bottle.
Geoff Barnett, co-founder of Expleco, says: "Recycling a bottle back to a bottle is the ultimate goal, however you don't have to transport that bottle very far to make this an environmentally and economically costly exercise. If there is a need for sand in construction, roading or an array of other alternative use markets then our products often provide a more sustainable long-term solution."
Geoff adds: "The sand can be used for whatever sand can be used for. It really comes down to how much you want to process it after crushing. We have screening equipment that can remove labels and sort the sand into five grades or you can take it a step further at a large scale from our AFS series equipment and send the sand to a ball mill and bagging system to achieve a single grade of sand. We have a partnership with the largest roading company in New Zealand who make an emulsion for a coldmix road repair using the sand direct from the machine with no processing. This has been very popular with our Pacific Island customers."
In the Virgin Islands, glass bottles from beach clean-ups are being recycled into sandbags for hurricane season!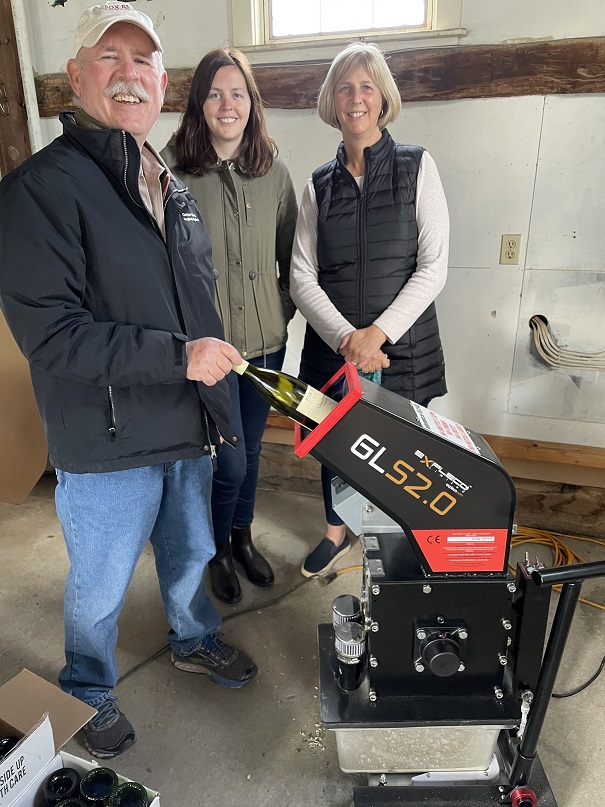 As a producer of nearly 240,000 bottles of wine each year, family-run Fox Run Vineyards knew it had to do more to keep glass out of landfill areas.
So they purchased the Expelco GLS 2.0 bottle crusher (
above
).
During busy weekends, the winery in the heart of New York's Finger Lakes can pour more than 50 cases of wine in its café and tasting room. When crushed, these bottles can fit into a few 5-gallon buckets, a 90% reduction in overall volume.
"The machine itself is quiet, safe, and easy for our entire staff to use," according to Scott Osborn, president and co-owner of Fox Run Vineyards. "It's another step on the path to minimising our impact on the environment, which is something we set goals for each and every year."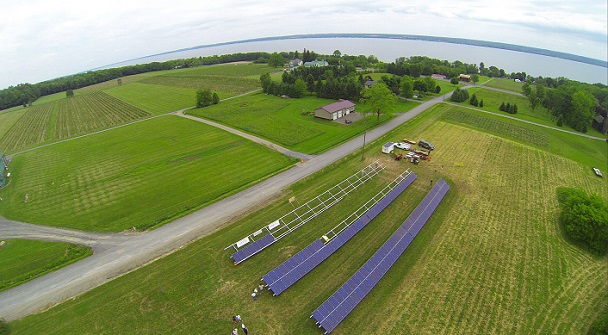 Other steps on that path have included installing solar panels near the winery to operate on 100% self-generated energy, switching to compostable café ware, and planting pollinator sanctuaries throughout the vineyard, which overlooks Seneca Lake.
Regarding the new pollinator sanctuaries, Scott says: "The first block will actually be near our solar panels, on what would otherwise be an empty grass lot. Working with a local farmer who specialises in these sanctuaries, we decided to till and plant flowers and greenery that will attract and support pollinator species, specifically bees and monarch butterflies. While the grapes don't need pollinators, the plants around them do. They are necessary for the biodiversity and success of our vineyard."
Fox Run, a participant in the new New York Wine and Grape Foundation's sustainable winery initiative, will display samples of the crushed bottle sand in the tasting room, so consumers can see the machine's impact first-hand.
Scott adds: "It's my hope that all New York wineries will adopt this technology. It's one of the best solutions out there for extended producer responsibility."
The Expelco GLSand bottle crusher is available in more than 80 countries. In the USA, it's being used at Loxton Cellars, Glacial Till, Afron Mountain Vineyards, Waldemar Estates and Pepper Bridge Vineyard. In New Zealand you will find machines at Man O' War on Waiheke Island, Foley Family Wines, Georges Michel, and Allan Scott. In Canada, Cedar Creek has ordered a unit.
Once Fox Run Vineyards has finished landscaping its picnic and parking areas, it will spread any additional sand in the vineyard and garden.
Scott admitted to
Canopy
that he doesn't know how the sand will benefit the vineyard. "It's too early to tell, but we do know it's safe for the grapes."