IWC Festival of Wine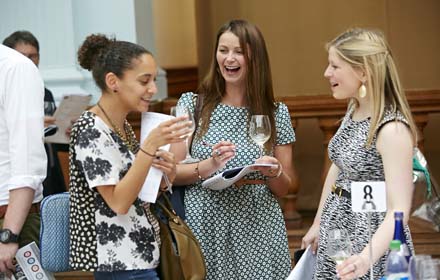 IWC Festival of Wine
Date: 13 June 2016
Location: Kia Oval, London

What is the IWC Festival of Wine?

The IWC Festival of Wine is open to all medal-winning producers from the current competition year. This event has two separate tastings with a five hour tasting for the trade before doors open in the evening for enthusiastic members of the general public.

The IWC Festival of Wine has evolved from the previously successful Taste of Gold event by moving to a larger venue to allow for expansion, reinvigoration (to aspire to a new generation of consumers) and to incorporate the Discovery Tasting, a Blind Tasting Challenge and more award-winners than before.

Why is the IWC Festival of Wine different?

The tasting will take a step away from the traditional table-top tasting events to create a truly unique offering to the trade. The consumer tasting will feature live music and food vendors to present an immersive experience to wine loving consumers.

Why exhibit?

Secure sales, generate new leads and meet new prospects from both UK trade and consumer markets
Make effective use of your time by engaging with our vetted group of trade professionals, selected for their relevance to your business
Face to face events are widely recognised as one of the most cost-effective ways to promote your brand and an opportunity to stand out from your competitors
Our unique environment allows you to dynamically promote the benefits of your wine and build new relationships with key industry players and consumers
An opportunity to included, for free, in the pre-event marketing campaign, sent to a database of over 3000

How to take part

Attendance at the IWC Festival of Wine is by invitation only. Entrants are able to express their interest in attending when entering and, if successfully awarded an IWC medal, will be contacted by the organisers once results have been announced.

Find out more here
"A Taste of Gold gave us the opportunity to showcase our wines to wine writers and buyers as well as a wide audience of informed individual consumers. If you are lucky enough to have the opportunity, I would heartily recommend presenting wines at this event."
Holly Bellingham, co-owner, Sumaridge Estate Wines